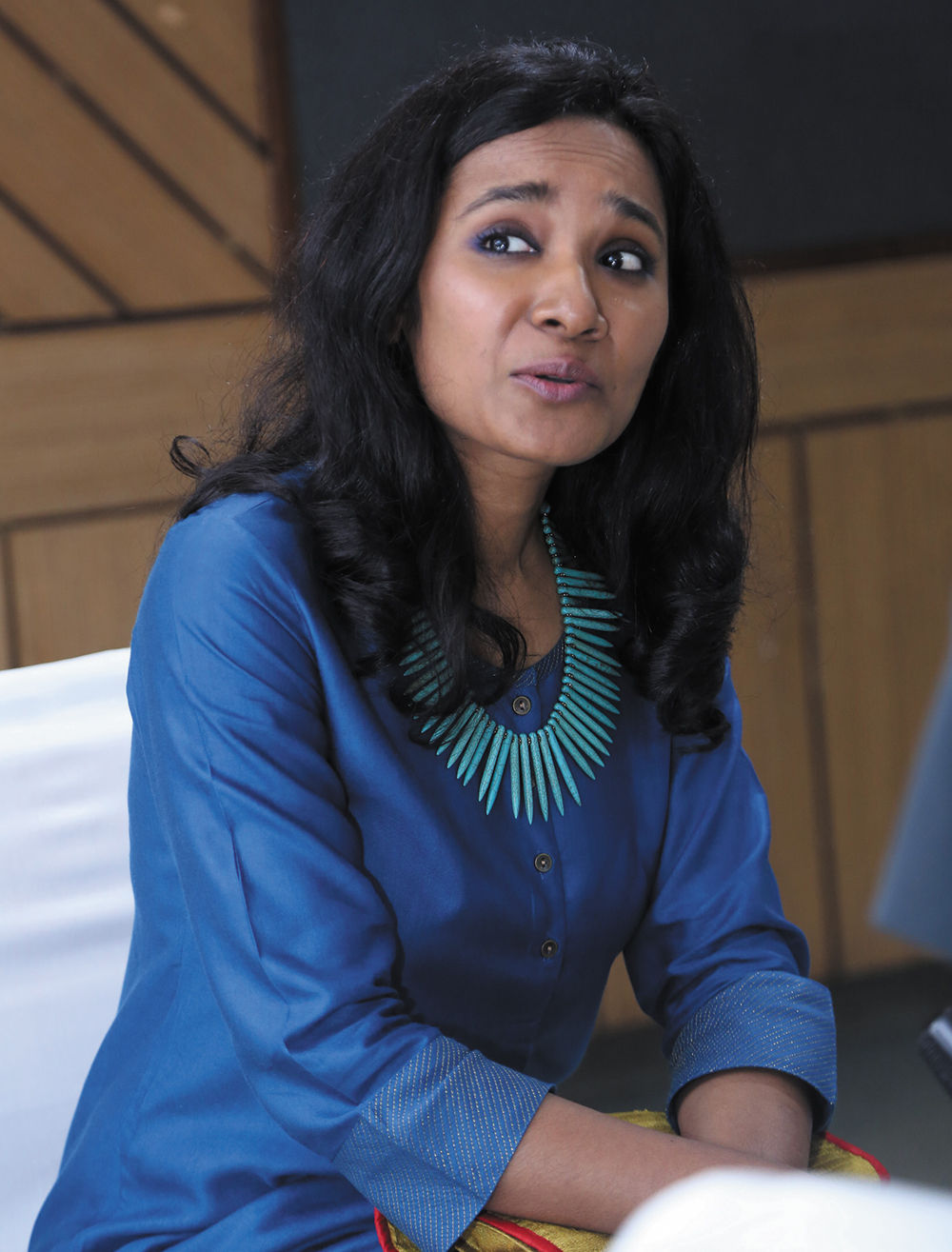 Tannishtha Chatterjee. Photo: Atif Khan
Tannishtha Chatterjee on being a crossover actor, her role in Marathi film Doctor Rakhmabai and her process of acting
Tannishtha Chatterjee, 36, juggles between two worlds — East and West. Best known for her performance in Sarah Gavron's Brick Lane (2007), the film adaptation of Monica Ali's bestselling novel of the same name, she has been working both with Indian and international directors, shuttling between London and Mumbai.

Born in Pune, she moved to Delhi, along with her family, where she majored in chemistry from Delhi University and also trained in Hindustani classical music before joining the National School of Drama. She made her debut with the National Award-winning film Swaraaj, directed by Anwar Jamal, in 2003.
For Brick Lane, Tannishtha was nominated for the British Independent Film Awards as the best actress, along with actresses like Judi Dench and Anne Hathaway. She played Masha in the Academy Award-winning German director Florian Gallenberger's film, Shadows of Time (Schatten der Zeit in German). She won the best actress in 2006 Osian Film Festival and the 2007 BFJA awards for Bibar, directed by Subrata Sen. She won the National Film award for Dekh Indian Circus, directed by Mangesh Hadawale. Her other notable films include Lucy Liu's Half the Sky, Canadian film Siddharth, directed by Richie Mehta, Joe Wright's Anna Karenina, Soumik Sen's Gulaab Gang, Amit Kumar's Monsoon Shootout, Ravi Kumar's Bhopal: Prayer for Rain, Dev Benegal's Road, Movie, Leena Yadav's Parched, which garnered international recognition for the portrayal of repressed sexuality of Indian women, Anupam Sharma's UNindian (with Brett Lee), Ruchika Oberoi's Island City, Garth Davies' film Lion, co-starring Nicole Kidman and Dev Patel, which was a contender for this year's Oscars, and Angry Indian Goddesses, directed by Pan Nalin.
Tannishtha's latest is a Marathi film, Anant Mahadevan's Doctor Rakhmabai, which was screened during the recently concluded Jagran Film Festival in New Delhi. In this interview, Tannishtha, who enjoys relative anonymity in the commercial Bollywood space, talks about her character in Doctor Rakhmabai, her process of acting, being a crossover actor and much more. "It is very enriching as an artist to get into the milieu of different cultures as it lets us explore the universality and the human conditioning," she says. Excerpts from the interview:
Atif Khan:
Tell us something about your biopic
Doctor Rakhmabai.
Tannishtha Chatterjee:
Most people do not know about Rakhmabai, who was the first practising lady doctor of India after Anandi Bai Joshi, who had got the medical degree before her, but could never practise because of her sudden death. She has a lot of significance in history, not only as the first female Indian doctor, but also as a feminist because she fought a court case against the Child Marriage Act and it was due to her efforts that the Age of Consent Act, 1891, was changed. As a modern woman today I am very proud to present the story and play her life through understanding the historical context and knowing that how many things have changed and how much more needs to be changed. We have screened it in New York, Dallas and Australia, but showing it to the Delhi audience is very special because it is my home. In Pune International Film Festival, I won the best actress for it and it was also screened at the Goa Marathi Film Festival.
Atif Khan:
You have essayed variegated roles. How different was to get into the skin of Doctor Rakhmabai's character?
Tannishtha Chatterjee:
It was an organic process of three-four months throughout which I read her biography and discussed with director Anant Mahadevan and screenplay writer Bikas Mishra with whom I had worked in
Chauranga
. We collaborated in the process of understanding Rakhmabai's life and character. Since it is primarily in Marathi than English and Gujarati, I needed to work to get the language right. Understanding the age transition, the period and the emotional space of the character were some of the challenges which I had to negotiate, but it went well.
Atif Khan:
You have worked in films that talk about women's issues. What changes do you wish to bring about the in the society as an artist?
Tannishtha Chatterjee:
As an artist, I can inspire people through stories. It is important to make films like
Parched
and
Doctor Rakhmabai
which talks about the battle against male patriarchy and the Hindu customs which women are not allowed to talk about. In 2017, if any regressive government supports women's regression, then we have to go back to our own history and celebrate these women who were very strong.
Atif Khan:
You went to the National School of Drama and acted in various plays. Did theatre shape you as an actor?
Tannishtha Chatterjee:
Absolutely. Theatre is the base for acting in any medium, whether it is cinema or television, though the process of exploration of a character always differs in treatment. I think acting is a very personal and individual process. We have to explore personally what works for us. Method acting, which we learn at institutes like the National School of Drama, does not work as we expect since we tend to develop our own way. But learning them helps as it is like
sur taal
in music which becomes the part of you and you start playing with it and practising this form gives you your own unique style.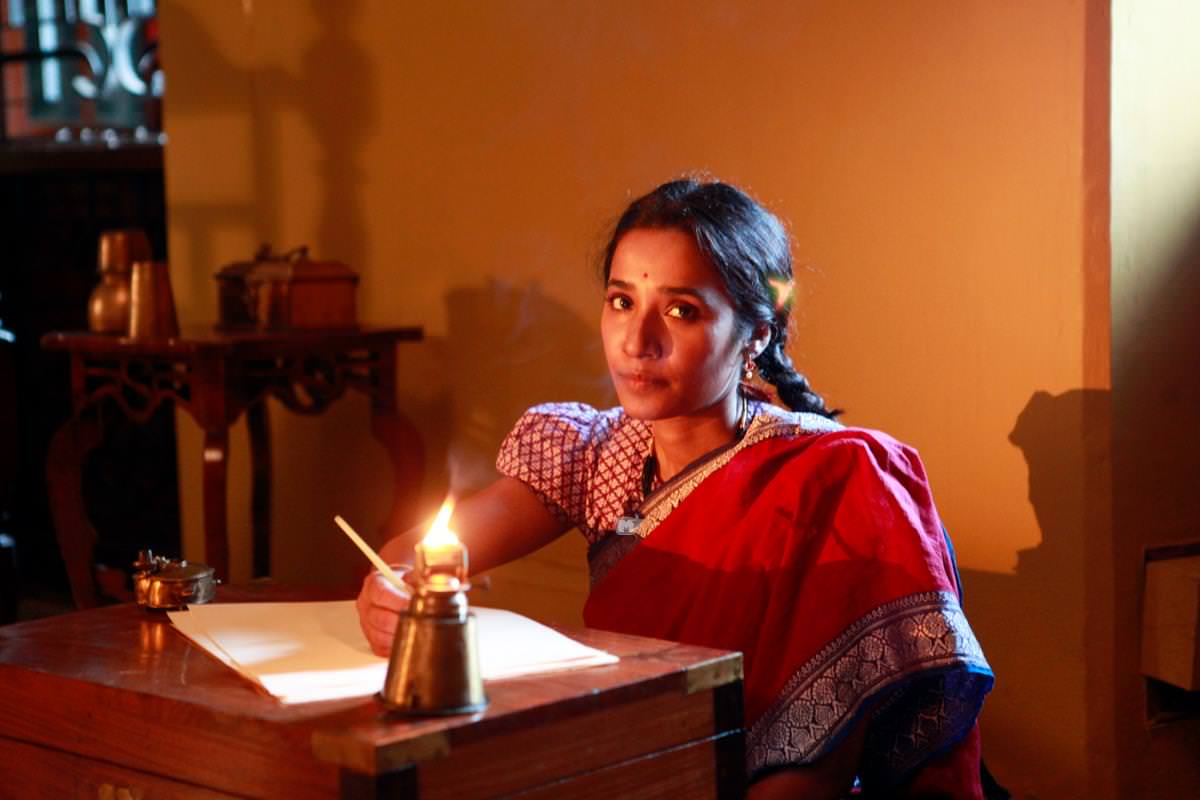 Tannishtha Chatterjee in a still from Doctor Rakhmabai, directed by Anant Mahadevan
Atif Khan:
Does the government need to focus on the development of cinema which reflects the true spirit of our culture?
Tannishtha Chatterjee:
Culture is not something you are born with. You are born with instincts. Culture, the human phenomenon, is created by living together. Arts, throughout history, needed patronage. In any civilisation, art flourished only when the kings were patrons, be it Greek civilisation or the Mughal's rule in India. If you are not exposing your child to different kinds of words right from childhood, he will not understand that language and its nuances. If I do not understand German, how would I understand a joke in German? That is the thing with cinema too. When people say that bad films are made because the audience wants them and that it is a result of supply and demand, they are not getting the reality. The audience does not know what they should watch. They are culturally tuned to watch a particular thing which is shown to them. Unless stage patronage helps younger artists to hone their art and produce something meaningful, you cannot expect a change in the audience's taste.
Atif Khan:
The state machinery often faces the wrath of intellectuals for repressing their voices. What needs to change?
Tannishtha Chatterjee:
In an undemocratic society, it is artists and intellectuals who are first attacked because the political power has to shut their mouth and shut any thoughts and ideas which question them.
That is why democratic rights are very important in the development of arts and culture. We are a vibrant democracy and we should be proud of that. I hope we retain the freedom that intellectuals have in a democratic society. State patronage should bring in art practitioners in the committees which have international recognition and not bureaucrats who do not have any idea about art.
Atif Khan:
Being a crossover actor who has worked across the globe, how do you see the impact of Hollywood on the Indian entertainment industry and its popular culture?
Tannishtha Chatterjee:
Hollywood as an industry has destroyed films and culture in every country as they are offering visual treats and spectacles. No one buys the vegetable from the indigenous farmers these days. They go to a supermarket for buying quality stuff and the same capitalistic mode can be seen in the entertainment industry also. When a big multinational comes, the local crafts and handicrafts die. One can apprehend the similar effect in the entertainment industry. In bigger cities, youngsters are not watching Hindi films anymore. They are only watching Hollywood films. They play games and watch action films in which there is no emotion. In the next ten years, when they have the buying power, we will go to a deeper vacuum.
Atif Khan:
Today, a lot of new actors are making a mark in films which are loved by both Indian and international audiences. As someone who has featured in many such films, how do you see the change?
Tannishtha Chatterjee:
In the past, people did not travel as much they are travelling now. In today's world, Internet has given access to a surfeit of information. People now know about the developments in every part of the world which is breaking the stereotypes everywhere. For example, I know that China is not only about martial arts as there are modern cities and economic centres which are exporting products around the world. Culture exists at various levels, especially in developing countries and that is why it is interesting to tell stories from there.
Atif Khan:
The international film festivals around the globe are working as cultural ambassadors of different countries. What makes a film universal in its appeal?
Tannishtha Chatterjee:
Festival audience knows that there are different kinds of representations within the same country. Angry Indian Goddesses is about a bunch of women who could be from anywhere in the world. When we screened it at the Toronto festival, it was a runner-up in the popular choice award as women from across the globe connected to it. Even today in smaller cities, there are smaller cultural referents which are so unique that cannot be found anywhere. And, at the same time, there are cities like Delhi and Mumbai which are almost similar to other major cities in other countries.
Monsoon Wedding
, for example, is a film which was not set in a slum or a village. It was set in a wealthy Delhi home.
Parched
, on the other hand, talks about the repression of sexuality among village women, which shows the other India. The expectations from the audience are also changing now as they are more open to universal cinema.
Atif Khan:
In the age of digital distribution, a lot of content is being consumed which is creating space for many stories. How do you see the space where cultural boundaries do not exist?
Tannishtha Chatterjee:
I have worked with people across the globe. In
Lion
and
UNindian
, I worked with the Australian team. In
Brick Lane
, I worked with the British team. I think it is very enriching as an artist to get into the milieu of different cultures as it lets us explore the universality and the human conditioning. Also, the digital medium is doing that very well for films like
Parched
which do not do well theatrically, but everyone has watched the film on platforms like Netflix. People are watching films in aircraft or through mobile platforms. For an artist, it is important to be seen — whether in theatre or on a digital platform. That way, we will be able to tell more pertinent stories as there is no censorship and we can tell the stories in the way we want and easily distribute it across the world.
Atif Khan:
You sang at the Royal Opera House in London with well-known British composer Jocelyn Pook. How do you cultivate the singer in you?
Tannishtha Chatterjee:
I am not planning to foray into singing. Though many actors are coming up with their albums, I have no plans yet. Music is very personal to me. If it has to come, it will come and I will not push it as I believe that the universe must be having plans for it. I do
riyaz
daily because that is in my hand. The rest is destiny.
Donate Now
Comments
*Comments will be moderated