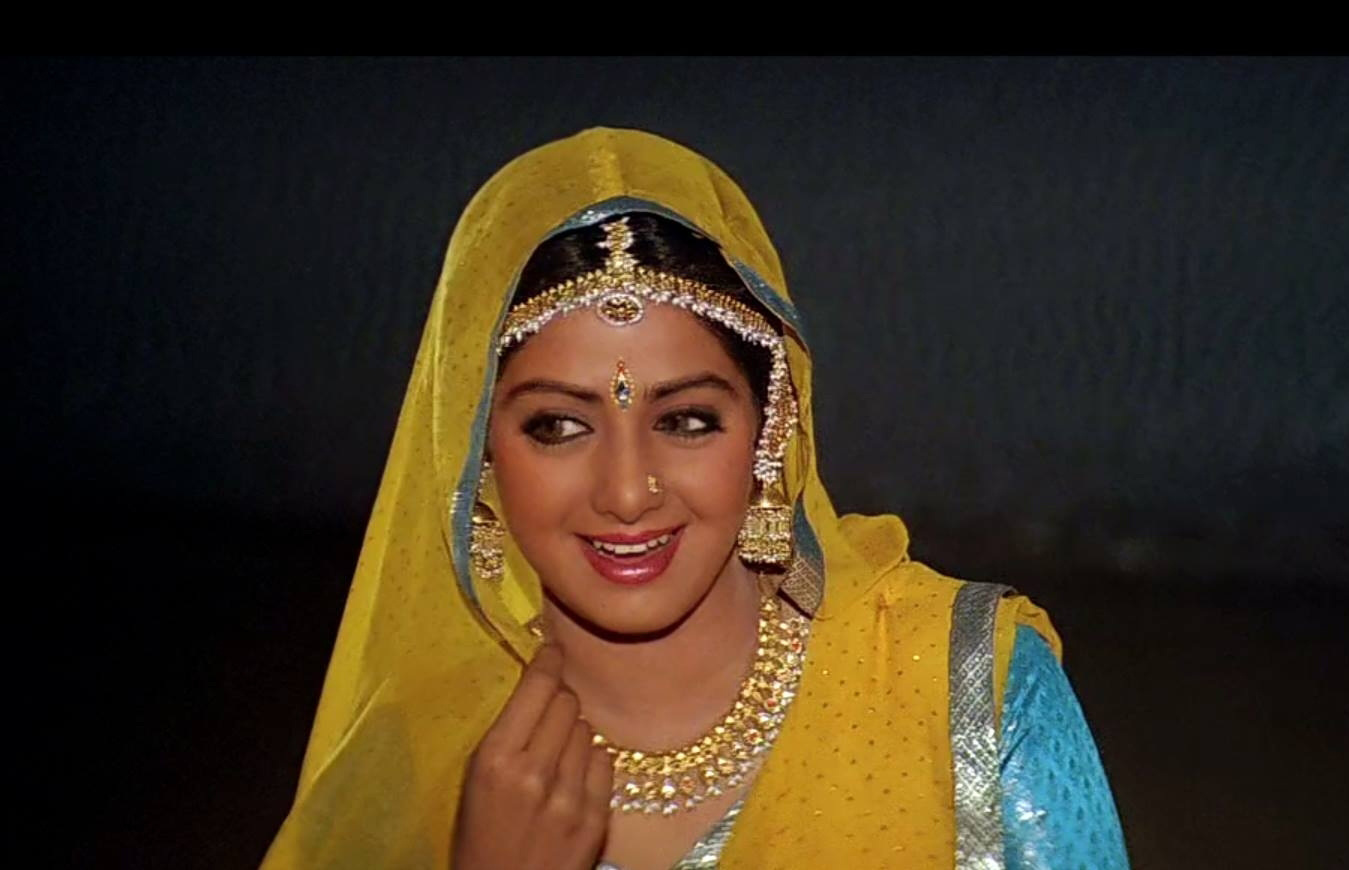 Sridevi (1963-2018) in a still from Lamhe (1991)
Without formal training as a dancer, Sridevi effortlessly danced and proved her mettle. It was in her dance that she showed the best of versatility and control as a performer
Adieu diva! Sridevi is no more. As the country and the film fraternity mourn her untimely demise, to me, having grown up in the '80s watching her films, it is how she ruled our hearts and kept enthralling us with her stark simplicity and as a dancer extraordinaire, that stands out.

The Sivakasi-born Sridevi was already a star of Southern Cinema when she debuted in Bollywood. Glamour and radiance personified, she graced Hindi movie musicals and took Bollywood by storm in the '80s. A waggle here, a wink there, with her mischievous smile, expressive eyes and rocking performances, she remains an enigma and an inspiration. She acquired a global fan following with her grace, beauty and dignified demeanour.
By nature, shy and demure, Sridevi literally ignited the silver screen in the commercial potboiler Himmatwala (1983) as she began her Bollywood innings in earnest. It was Sridevi's sensitivity that made her remarkable as an actor. Yet it was her dance sequences that have endeared her to her audience. In fact, her legendary reputation, ideally, should rest on her dance performances.
Often overlooked, it was her song and dance sequences that would often outdo the limitations of a mediocre script. A look at the pseudo-classical dance sequence in Himmatwala: "Naino mein swapna, Swapno mein Sajna…", with glittery costumes, shows her seductively matching steps with her male co-star Jeetendra who was well known for his dance prowess. They are equally rocking and assured in the dance sequence to the song "Taki o Taki" of the same film. Together their movements, gestures and expression redefine the codes of Hindi film dance. The mise-en-scene in "Naino mein swapna" features painted and colourful matkas (earthen pots). As the camera attempts to fetishise the female body, with Sridevi's fluttering eyes, sensuous lips, heaving cleavage and 'thunder thighs', her natural rhythm seems to be refocusing on the film dance repertoire.
The versatile dancer with her child-woman sensuality had the movie-going audience hooked as Sridevi revolutionised Hindi film dance. Her spontaneous dance moves dared the very best as even Jeetendra found it difficult to match them in Himmatwala. She could effortlessly blend classical dance with popular Hindi film dance without vulgarising the classical dance steps and bodily movements. Even in her scintillating Amrapali outfit she maintained a distinct lack of vulgarity. Following the success of the biggest blockbuster of the year in Himmatwala, a string of remakes of Southern hits followed, featuring her in Mawaali (1983), Inquilaab (1984) and Tohfa (1984).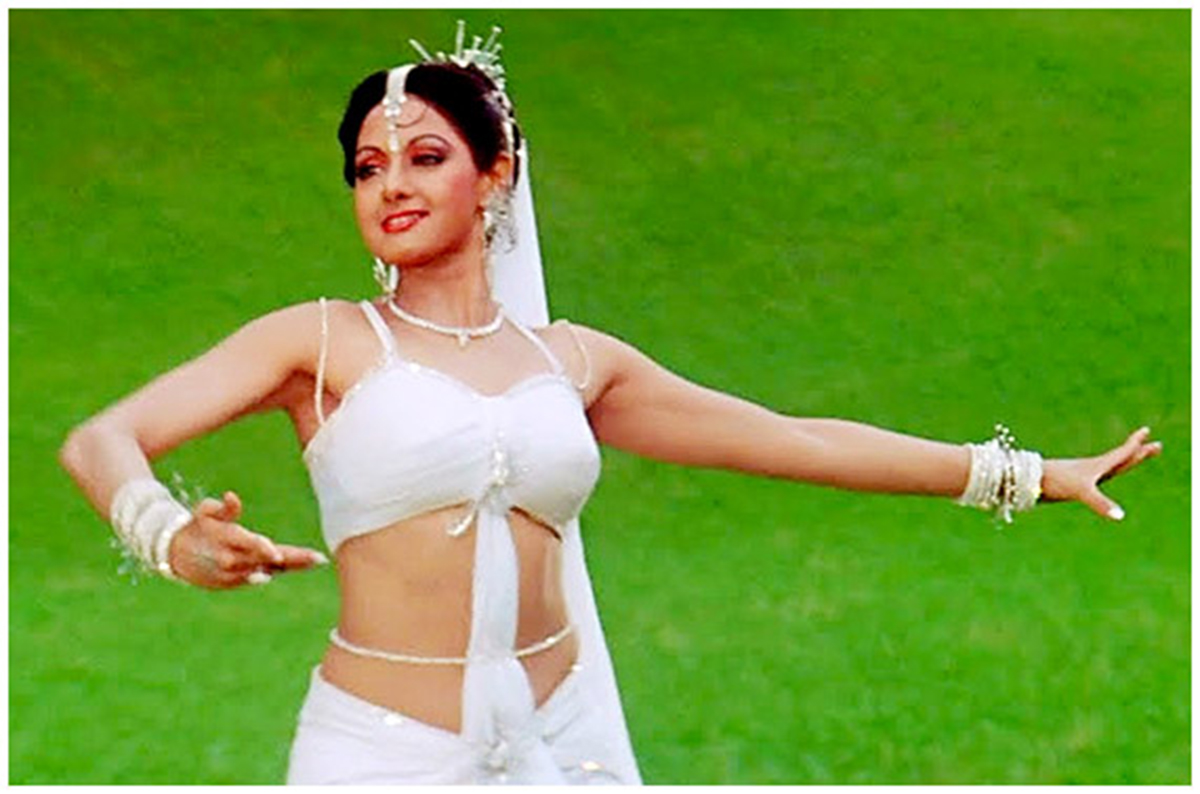 Sridevi in Chandni (1989)
Sridevi was associated with one of those iconic, gorgeous and emblematic woman characters that Yash Chopra created in Chandni (1989). Her role in Chandni, that breathes life into this delicate and exuberant woman on screen, secured her position as the 1980s reigning female superstar of Hindi cinema. The film celebrates womanhood and Sridevi is portrayed as the epitome of beauty — loved, glorified and deified. Her knockout performance as Rishi Kapoor's love interest in Chandni made certain that she scaled the zenith of success. She spiralled into fame, almost overnight.
Concomitantly she came to be revered as the ageless diva or Audrey Hepburn of Hindi cinema. With this romantic drama film she scaled the heights of superstardom opposite well-known male leads Rishi Kapoor and Vinod Khanna. Like her co-star Rishi Kapoor in Chandni, we steal a glimpse of the playful and lively Chandni and fall in love with her at first sight as we watch her delightfully romp to the hugely popular wedding number "Mere haathon mein nau nau churiyan hai…". This dance sequence has remained an all-time favourite for all Indian weddings. With her radiant Chandni look, Sridevi created such a sensation that her iconic look in the film redefined or rather revolutionised the glamour world in the '80s. Her fashionable Indian outfits and costumes added to her resplendent charm and made the Indian garment industry hit the jackpot, tirelessly imitating the Sridevi phenomenon for a new generation.
Her three-minutes-and-twelve-seconds-long signature classical dance sequence in Chandni showcases her mesmerising dancing skills. In this dream sequence, she is picturised almost as an ethereal, mythical goddess draped in white, as her lover Rohit (Rishi Kapoor) paralysed and bound to a wheel chair, remembers his happier days with Chandni (Sridevi). This was dancing in the blood. In this sequence, Sridevi, in character, had transformed dance into the hidden language of the soul. She dances with such magnanimity in the dream sequence, that her splendid grace in the classical number could rival anything that either Madhuri Dixit or Meenakshi Sheshadri, who were the other leading female actors of her time and who were also trained classical dancers, may have produced.
Madhuri Dixit burst onto the Bollywood scene with Tezaab (1988) and both Madhuri and Sridevi became, unsurprisingly, strong rivals. However, unlike Sridevi, both Madhuri and Meenakshi had formal training in classical dance. Four years after Chandni, Meenakshi Sheshadri too gave a wonderful performance in a tandav dance sequence in Damini (1993). However, keeping Sridevi's untutored yet breathtaking dance performances in perspective, it is hard to believe that Sridevi could effortlessly dance and prove her mettle without much formal training as a dancer. Particularly her temple dance and a tandav dance sequence amidst diyas (lamps) in Jaag Utha Insaan (1984) have remained extraordinary and the dance sequences are full of intense energy that have kept her fans glued to their screens. The dance number "Jhan jhan na na na na Paayel Bole" is the actor's iconic dance number from Nazrana (1987) where she dances with such spontaneous gaiety and poise.
With her natural knack for dance, she came up with a stellar performance as a shape- shifting snake-woman in the blockbuster Nagina. With fierce expressions and exuberant feminine energy, she resists the evil designs of a snake charmer (Amrish Puri). The Nagina dance was her signature dance and the Sivakasi actress effortlessly mastered the dance movements with elan as she was then mentored by choreographer Saroj Khan in the number "Main teri dushman/dushman tu mera". With her snake-woman aura, she could only leave her innumerable fans swooning for more. In her later years, choreographed by Saroj Khan, she delivered several other commercial successes.
In Chaalbaaz (1989), a reprise of Seeta Aur Geeta (1973), she won us over again with a dazzling double role as the coy, submissive and exploited Anju, and an extrovert, flamboyant, happy-go-lucky Manju. Dance played a pivotal role in the film. As Anju, she almost reshapes the repertoire of Hindi film dance in the Nataraja/tandav dance sequence which ends by her unintentionally thrashing her unsuspecting evil uncle Tribhuvan/Chachaji (Anupam Kher) as she performs the pirouettes.
Her passion and energy in the Nataraja Dance in Chaalbaaz appeals to primal, rhythmic energy of the universe. Her mudras and footwork derived from Bharatanatyam, her pirouettes from Kathak are carefully fused with a natural rhythm and poise. In her unique manner she could redefine the classical in Hindi popular films. In Chaalbaaz, her rocking, slapstick comic gigs as the sparkling Manju, when she hits the dance floor with a white umbrella, is equally captivating. Her irresistible street-smartness in a transparent raincoat, child-woman appeal, innocence combined with mischief and the chirpy rain song "Kisi ki haath na ayegi yeh ladki" rocketed the actress's popularity to such dizzying heights that the audience knew that here was an actress who as Manju would not only whip into shape her sadistic uncle and his partner but was here to rule the silver screen for decades.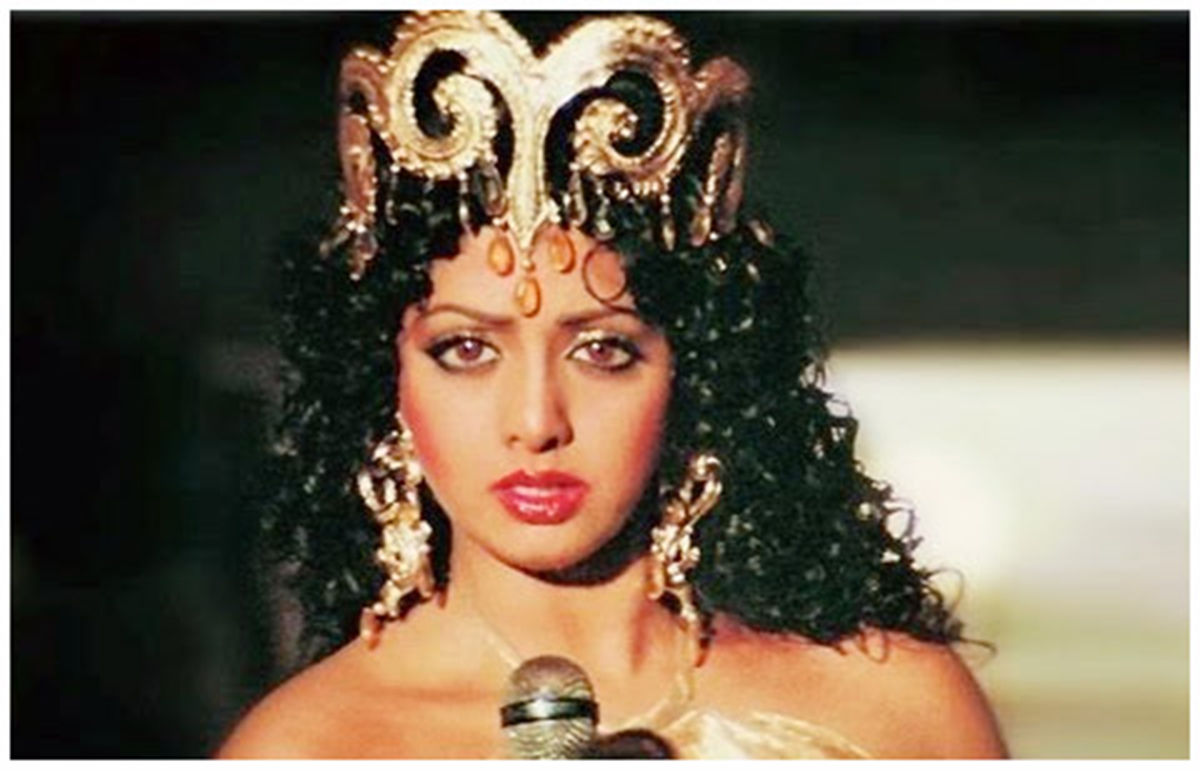 Sridevi in Mr India (1987)

Her fans mouthed her dialogues, mimicked her crazy excesses, would get carried away by her heady appeal and emulated her after the phenomenal success of the movie. Her funny gestures, mannerisms, crazy hair-dos, love for make-up as the unabashed and pleasure-seeking Manju made her endearing to all. Chaalbaaz, one of her finest movies, captured Sridevi the consummate performer in a nutshell, with her child-like insouciance, her sauciness, her animated antics her sparkling comic liveliness, and the virtuosity of her dance steps.

From her sensuous and surreal guest appearance in Jaanbaaz (1986) in the song "Har kisi ko nahi milta yaha pyar zindagi mein" to her swaying in a wet blue chiffon as the enchanting temptress, she remains unprecedented in Hindi cinema. In the sensuous duet of all time, from Mr. India, "Kaate nahi kat te," Sridevi is seen nurturing her sexuality in a mainstream popular culture, and undoubtedly she was the master of her craft. She began her active film career about the same time as Silk Smitha, another Southern siren noted for her 'sinful' eroticism and desirability. Yet it was Sridevi who could strike the right balance and go on to become the highest paid actress of her era. Her sexuality combined with her gorgeous appeal was tempered with laughter, penchant for giggles and baby-faced antics. As she cemented her position as the 'first female superstar in Indian Cinema' her desirability in the entertainment industry was defined on her own terms, disconcerted but dainty, unembarrassed yet refined. In an unprecedented manner, she redefined and reconfigured the performing body of the desirable heroine in Hindi cinema.
Her absolutely delightful song and dance sequence "Hawa Hawaii" in the commercially successful Mr. India blended the comic and the sensual with style in a role where as she plays the investigator, the goofy crime journalist. From the overflowing cornucopia headgear to the golden crown, only Sridevi could carry the outlandish, cranky accessories in Mr. India's "Hawa Hawai." Incidentally, this film also catches the versatile actor stretching the bounds of her repertoire by playing Charlie Chaplin in a casino.
Sridevi could do intense, emotional roles but managed comic performances with equal deftness. In most films she outshone her much-vaunted male co-stars like Rishi Kapoor, Sunny Deol or even the mighty Rajinikanth with her stupendous performances, whether it was in Chandni, Nagina or Chaalbaaz. In Sadma, the remake of a Tamil classic Moondram Pirai (1982), in which she had starred as well, and a film that was a milestone in her career, in spite of her brilliant performance as an amnesiac woman Nehalata (Reshmi), the Filmfare Best Actor award went only to Kamal Haasan and she was nominated but not awarded in the Best Actress category. In an entertainment industry dominated by men she was a lady to reckon with.
Sridevi returned to her double role, mother-daughter avatar, in the Yash Chopra cult classic Lamhe (1991), a romance drama of transgression and a film almost ahead of its time in its handling of the subject matter. When humiliated by Virendra Pratap Singh (Anil Kapoor), Pooja (Sridevi) vents her anger in a bizarre rage dance, a new age tandav. She shares a sizzling chemistry with her co-star in the song: "Kabhi main kahoon/ kabhi tum kaho". With her royal demeanour she is equally eye-catching when she dances with Ila Arun to the folk tunes of "Morni Bagama Bole" on the sand dunes of Rajasthan. Sridevi won the Best Actress Filmfare Award for her role as Pallavi and Pooja in the film.
In 2013, the Government of India awarded Sridevi the Padma Shri, the country's fourth highest civilian accolade for her contribution to cinema. She had set out on a journey that has now turned into a legacy. The philosopher and poet Rumi had opined, "Dance, when you're broken open. Dance, if you've torn the bandage off. Dance in the middle of the fighting. Dance in your blood. Dance when you're perfectly free." It was in her dance that Sridevi showed the best of her versatility and control as a performer. It was truly Grace dancing. She danced till the stars came down from the rafters. The queen of beauty, the queen of hearts, Sridevi, lives and continues to enthral us.
Donate Now
Comments
*Comments will be moderated