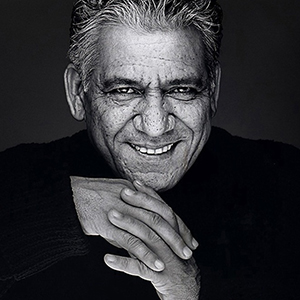 "Ek palde mein napunsakta, ek palde mein paurush, aur theek taraazu ke kaante par, ardh satya."
"On one tray (of a balance) is impotence, and on the other is manhood, and exactly at the needle point, ardh satya."
As tributes to actor Om Puri poured in, a headline describing him as "an actor who did not get his due" struck me. What would have been construed as his getting "his due"? Who would have given it? Can the issue — why some actors do not get their "due" — be addressed?
As I look back on Om Puri's (that's how he was always referred to — by his full name rather than Puri or Om or anything else) life, that's what bothers me. What did his career stand for? How will his contributions be viewed? And must his personal life, sometimes controversial, be part of why he is remembered?
Almost every tribute to this versatile actor — and so few mainstream actors in Indian cinema can merit that adjective — has stressed on his immense contributions to Indian "parallel" (read independent) cinema. Indeed Om Puri, along with peers Naseeruddin Shah, Shabana Azmi and Smita Patil, was once seen as one of the quartet that established a new movement in Indian cinema — the parallel movement.
That movement, live only in memories now, is still derided by opponents who did not share its values. Of course, it was writers and directors that birthed the movement, and gave it its core — Vijay Tendulkar, Dilip Chitre, Bhisham Sahni, Saeed Akhtar Mirza, Shyam Benegal, Govind Nihalani, Satyadev Dubey, Girish Karnad and many others. But the movement was fleshed out and the memories were created through the agency of those in front of the camera. It was here that Om Puri stood out. Any legacy to his career without understanding his times would be futile.


A still from Ardh Satya

His breakaway "hit" — and yes, it was a commercial success in 1983 — Ardh Satya haunted the memories of middle-class moviegoers across the country — unused to such raw emotion. Nor was the film comfortable — a searing indictment of the effect of the Indian political system and its ganglord-type netas on an honest cop. Impotence, frustration, anger, existential crisis — Anant Velankar (Puri's character) embodied them with a rare thespian passion and ferocity. Unsurprisingly, Om Puri won awards nationally and internationally.

More significantly, the film held up a mirror to the commonly felt angst among many Indians who yearned for a society more closely based on justice and equality and human rights and opportunities. It wasn't about just the film (and others of the genre). Filmmakers had hoped these qualities would also seep into lived experiences of Indians. They were out to "change India" for the better, even if they did not articulate it quite as bluntly. That movement, so optimistic and possibly naive, had, however, been the life of those involved in it, and its death impacted many of those who formed its core as India's mainstream (in cinema and otherwise) decided to go a far more corrupt, misogynistic, violence-prone and simplistic way. Om Puri's own life and career wove in and out of these heady times. He and his compatriots weren't stars in the conventional sense, but actors who studied their subjects, learnt accents, practised method acting, and above all strove to capture the essence of their characters. Indeed, many of the films of the time were made by cooperative societies comprising those working in the films.
Page
Donate Now
Comments
*Comments will be moderated