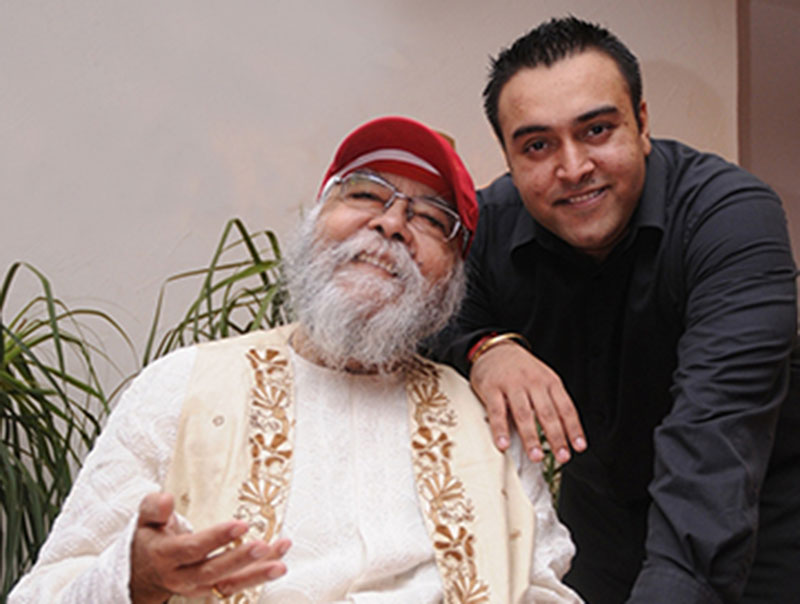 My father, Mr Jiggs Kalra, has spent a major part of his life reviving, restoring, recording, reinventing and reintroducing Indian cuisine to diners from across the globe and placing it on the global map, earning him the title of "The Czar of Indian Cuisine" and the "Tastemaker to the Nation". He has contributed extensively towards showcasing the strength of Indian cuisine while being a part of plentiful Indian diplomatic delegations during the tenure of Shri Atal Bihari Vajpayee, serving numerous heads of state and royalty and also through various culinary festivals organised around the world. He has to his credit some of the renowned culinary addresses in India and overseas. A few years back, he was inducted into the prestigious Gourmet Hall of Fame, making him the first Asian to be a part of the esteemed society.
Coming from a typical Punjabi family, my grandfather was from the Indian Armed Forces and a stickler for discipline and made sure that no negotiations were made on our upbringing as far as this was concerned. Having said that, like any other Punjabi household, we have been associated with food for generations, with my grandmother — her mutton beliram still remains my favourite — and mother being the finest cooks I've ever known. Food was a continuous topic during our family dining conversation; as a child, I never understood that much, but the anecdotes were quite interesting and mesmerising for us to look forward to the meals. However, growing up with a legend in the family has a price which one needs to pay. Though dad didn't join the Armed Forces, the lives we lived as his family was no different. It was highly disciplined with specific timings that we had to follow and, more importantly, with him constantly working and travelling most of the time, it was difficult growing up in the absence of a father. There came a time when we didn't understand each other — it was painful for us. I was happy to see him on screen during the period. His show, Daawat, which probably was the first ever reality show on food, would be on air, but we would miss him around at home. It wasn't until one day when someone remarked that I was "Jiggs Kalra's son" did it dawn upon me the celebrity status of my father.
We were teenagers when we were introduced to junk food during our annual family holiday to the US. Wrong age to do so! But that only fuelled our obsession with food, flavours and textures. Growing up with him exposed us to a lot of travel across India as well as overseas during our vacations, dining at some of the best restaurants and hotels as well as exploring local cuisines of the regions we travelled through. One such journey which I still remember was when he had us driving across the countryside in Scotland, spending time in numerous bed & breakfast places, interacting with locals, housewives and chefs from these places, learning, studying and helping them in the kitchen. It was the best holiday I've been to, ever. After all, we got to spend a lot of time with him, which was otherwise not happening. This not only expanded our horizon to the dining traditions of various cultures, but also highly developed our palates to recognise flavours and tastes of each ingredient used in the dishes. I would spend a lot of time with him in and around the kitchen, but never had the patience to actually get to cooking for myself, let alone professionally, and that's when I realised that I wanted to be a restaurateur. I spoke to dad about it and he was more than supportive of my decision and, thus, I headed to Boston after my graduation to get an understanding of business management. I returned in 2004: Dad had just had his stroke which left him immobile from the left side of his body, neck down, making him wheelchair-bound. It was hard, but he was still as energetic and enthusiastic about Indian food as he was when he was a youngster. It has been an inspiration seeing him and that urges me to only push myself to give everything I do my best and never settle for anything otherwise.
Page
Donate Now
Comments
*Comments will be moderated
Dear Zorawar,deepest condolences from us,my sister Kitty was a fav of Higgs,hv fond memories of him,RIP,dear Jiggs💐🙏🏽
Chamundeswari Baji
Jun 4, 2019 at 09:14