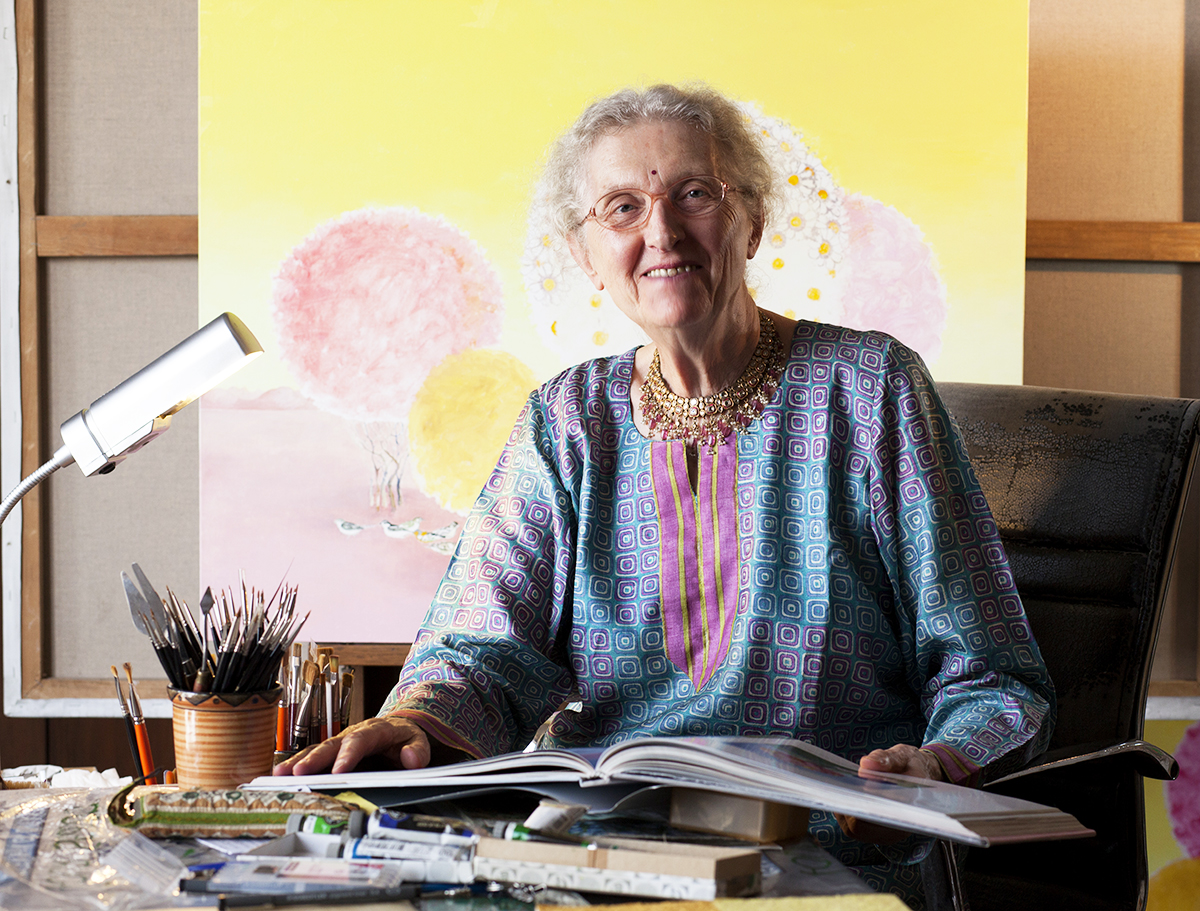 Maite Delteil. Photo courtesy Art Alive Gallery
In her latest exhibition, artist Maite Delteil, 86, travels back in time to showcase works from the 1960s. The show, titled "The Yellow Room", which was held at the Art Alive gallery in New Delhi till April 15, brought together Delteil's delightfully exuberant paintings that evoke the many moods of languid women — single or with a company, contemplative, sometimes naked — in their boudoirs.
Delteil's expressive use of colours gives these paintings, which have never been exhibited before, a charming edge. Sunaina Anand, owner of the Art Alive gallery, which put together the exhibition, says that when she first set eyes on these works in a closet at Delteil's country house in France, she was struck by the fact that these paintings, done in the 1960s style, seemed "so fresh and alive". When Anand visited Delteil's studio in Anthe, France, last year, the artist told her about these works which were not seen by anyone before. "I was excited to see these small intimate works about woman and her journey with herself and I wanted the audience to view this unique collection," she says, adding that Delteil's works — about people, relationships and nature — are evolving with time. "The figures, vibrant colours and nature in her paintings are inspired by the time she spent in the French countryside during her childhood, which can be seen in her earlier and latest works," says Anand.
Delteil, who was born in France, is married to well-known Indian painter Sakti Burman, and has been living and working in France and India. In her works, mostly paintings capturing the myriad hues of birds and plants (watercolour on paper, oil on canvas), she draws on a blend of the Indo-French aesthetics.
Excerpts from an interview:
Shireen Quadri: How were the times for the artists in the 1960s when these paintings were made? What ideas ran through your head when you were working on these paintings?
Maite Delteil: One can do landscape paintings, portraits or nude still-lives. It's not that we cannot move from one to the other. Even in the '60s, some collectors or galleries would come up with the request to do landscape or nude. When I did this series — paintings of ladies, many of whom are nude — it is not that I had an idea in my head. It was spontaneous.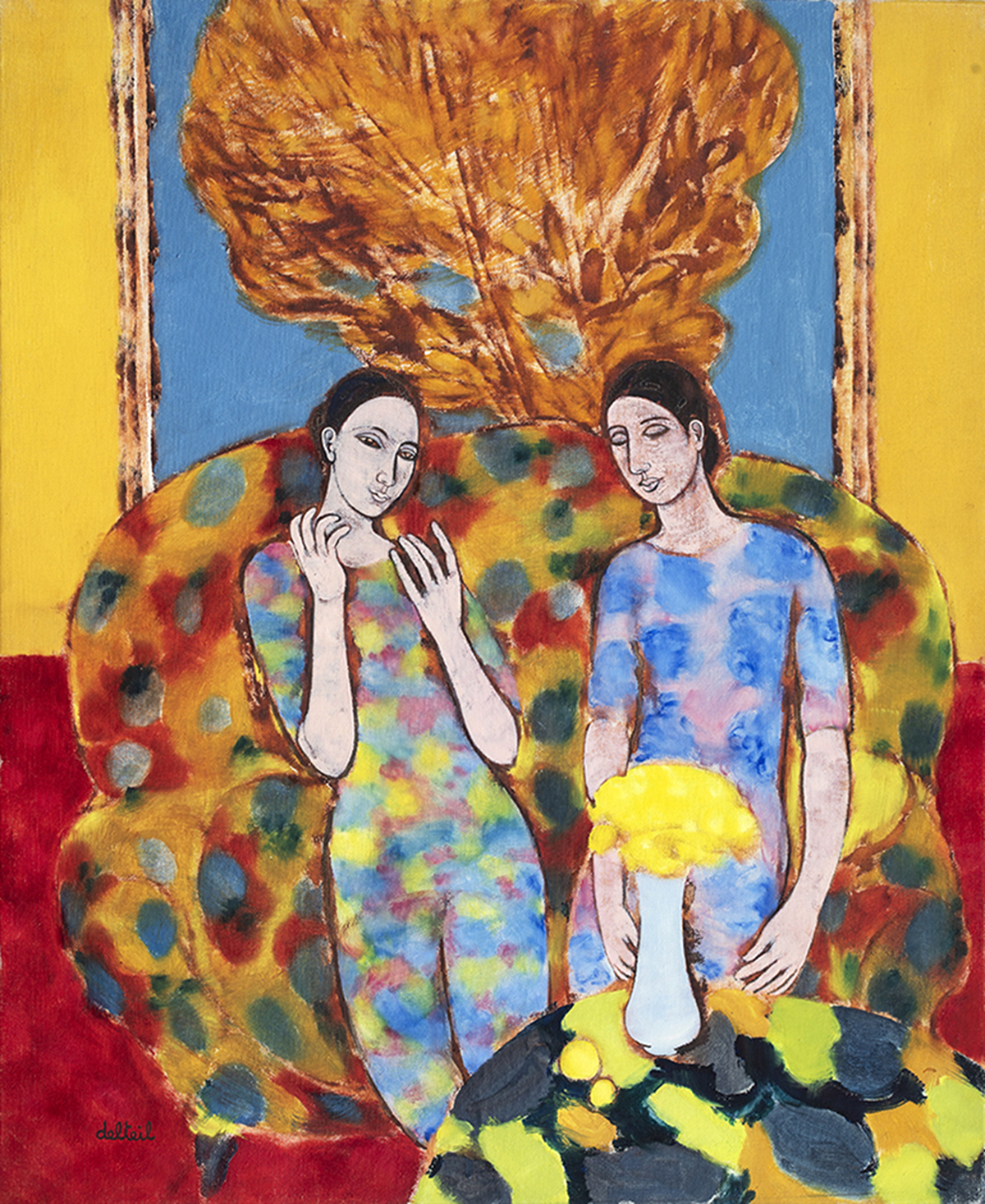 Conversation, oil on canvas
The series of painting was made because, at that time, I was working with a French gallery that was showcasing my work in Japan. I had the series ready to be sent to Japan when the gallery got closed. So, these paintings stayed with me in the countryside. When Sunaina Anand came to my place last time, she saw all the paintings. She liked them and proposed to do an exhibition. I agreed. These paintings were not shown in India before. In India, people are aware of my current work. So, it is interesting for me to showcase my work from long ago and for people to see what kind of work I used to produce in my younger days. Last year, I did an exhibition of my drawings from the 70's in Mumbai.
Shireen Quadri: Today, when you look back at these paintings, what do they remind you of your younger creative self?
Maite Delteil: Now, I shall not be able to do the same job. In those times, I was very classical in my painting. I wasn't doing paintings that were traditional, but always very colourful. At that time, I tried to be modern. I was also influenced a bit by Henry Matisse (1869-1054) and his way of using colours very simply and ingeniously. Now, I'm working more in a classical way. Matisse, however, has been an unconscious influence as I have been more attached to Italian Renaissance (1330-1550) all my life.
Shireen Quadri: Most of these portray single women in their bedrooms. What was the condition of the French women?
Maite Delteil: Their condition wasn't bad, but it was more difficult for a girl like me, who came from the countryside, to come to Paris alone. At that time, women were just beginning to go out and work. Even I did not expect that my family will let me go and work in Paris. My father wanted to be an artist and his family was quite well off. His parents didn't want him be an artist as artists were infamous and, they thought, he'd start drinking. So, after I finished my studies, my father asked me if I would like to go to Paris and make art. I said yes, but it was unexpected and it happened.
Shireen Quadri: Who are the contemporary artists you admire?
Maite Delteil: Picasso was one of them. He was quite a genius. I have been influenced by Indian miniature paintings. When I came to India in 1964, I liked Manjit Bawa (1941-2008), for his use of colour. For colour, I also like Ghulam Rasool Santosh (1929-1997), the tantric painter. I always get fascinated by the works of my husband, Sakti Burman.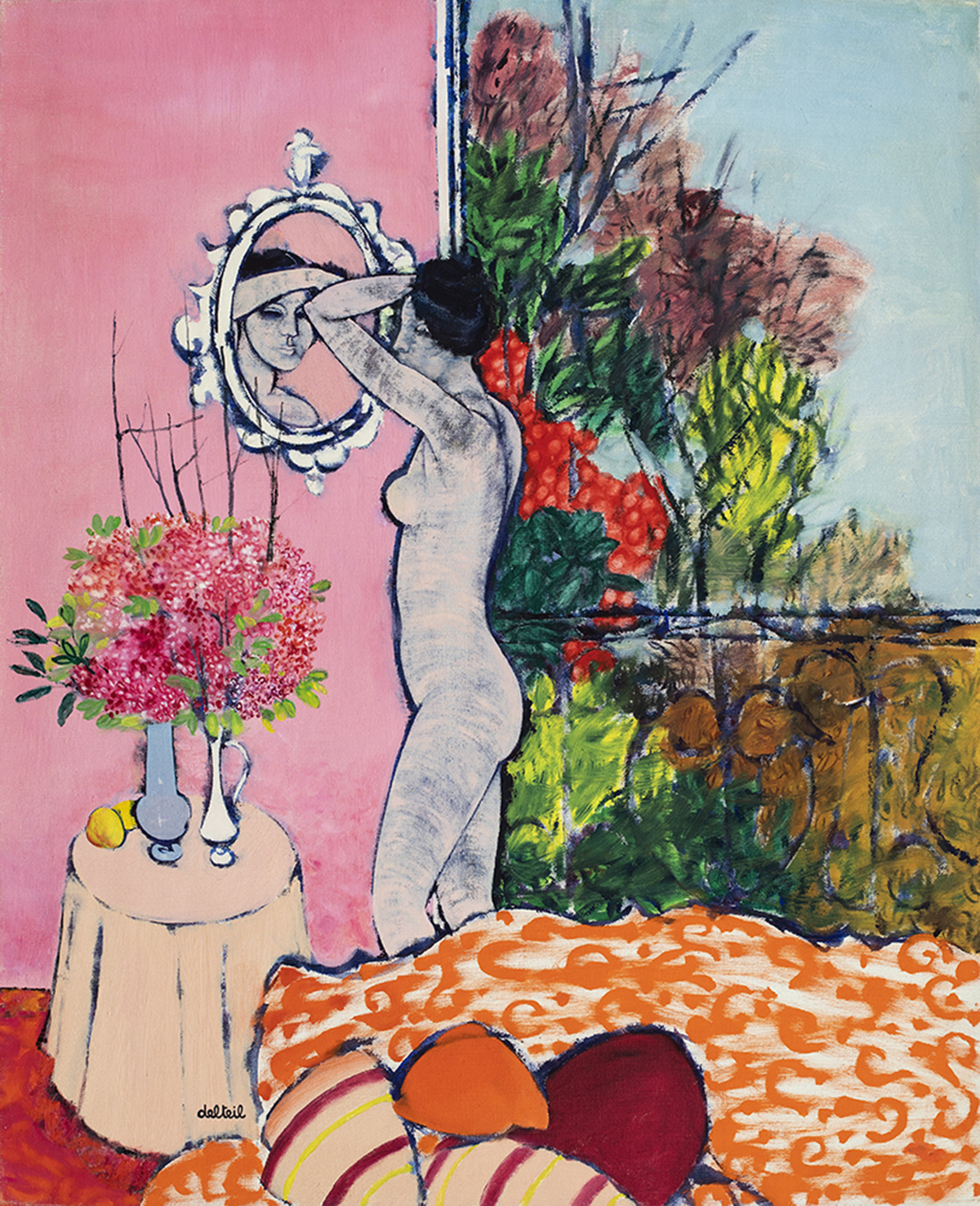 Morning of Spring, oil on canvas
Shireen Quadri: What do you aim to convey through your dream like paintings?
Maite Delteil: I like nature. And I have been seeing that these days, people don't care much about the environment. They cut trees to build residences. It was affecting me, but I did not want to voice it. It is a feeling that remains inside. Also, I always liked to stay in the countryside, but had to live in Paris. When you are an artist and stay in the countryside, you cannot live off your paintings. One could make a living as an artist in only a big city like Paris. There were galleries from everywhere.
Shireen Quadri: If you have to make similar paintings now what kind of paintings would they be?
Maite Delteil: I haven't thought about it. It has to come to me spontaneously. I'm doing a big painting of a young girl playing with a ball. That is a subject I was doing in the 50's. Around then, my subject was small children playing with a ball. Now, I'm doing it again and the girl has become bigger. So, even though it is not exactly the same feeling or the same result, but am returning to the subject again. Nowadays, I can't think of doing a nude painting due to the censorship that has increased in India recently. It's a big problem to showcase nude paintings.
Shireen Quadri: What kind of artistic association do you share with your husband?
Maite Delteil: I go to my husband's city (Kolkata) to see what he's doing. He, too, comes to me when our daughter, who is in a special home, is also at work. We see and discuss each other's works and give feedback. When we work, we do exchange ideas.
Shireen Quadri: What are you working right now?
Maite Delteil: I'm working on two paintings revolving around the themes of winter and summer. They will be part of an exhibition, curated by Ranjit Hoskote.
Donate Now
Comments
*Comments will be moderated