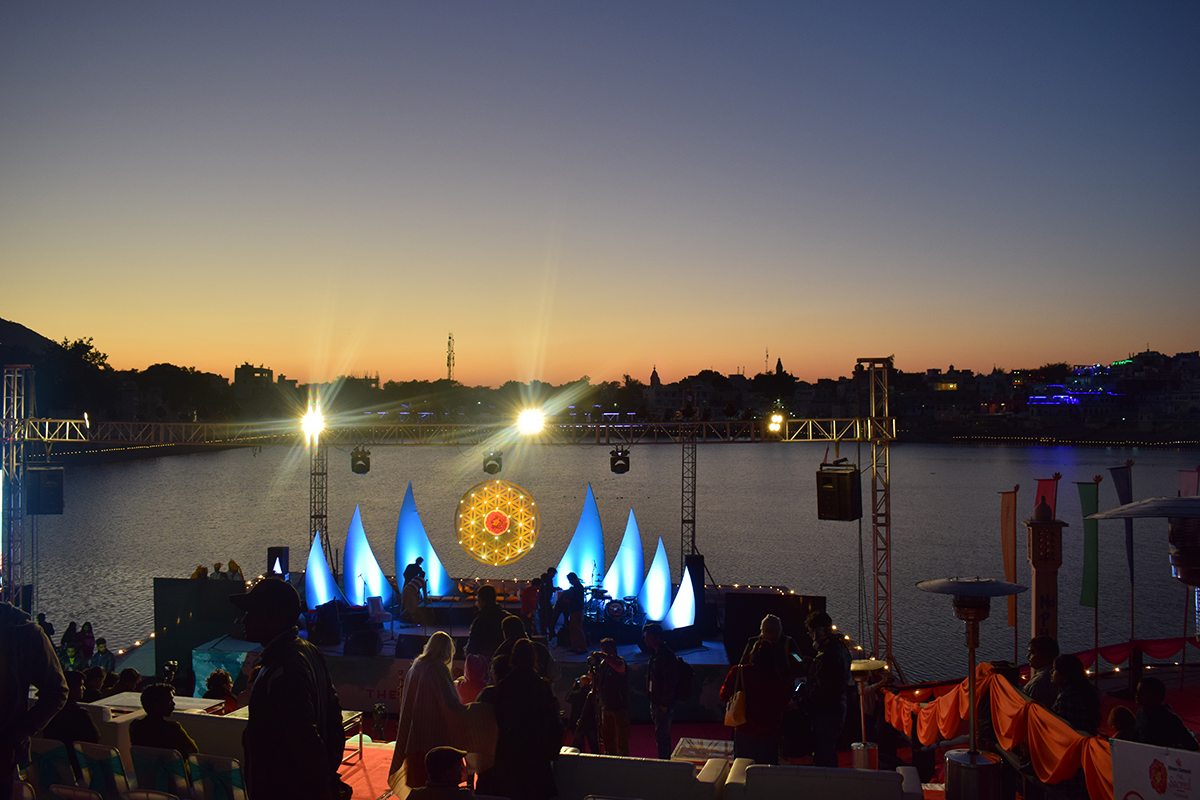 Stage being set up at the Sacred Pushkar 2017. Photo: Shireen Quadri
Notes from The Sacred Pushkar 2017: An experiential festival highlights the celestial nature of music
For three years, the sacred town of Pushkar, tucked away in Rajasthan's Ajmer district and nestled in the midst of Aravalli range, has seen its holy ghats reverberate with the strains of music in modes which evoke the ardour of piety, stirring souls, bringing people from variegated hues of cultures closer. For three years, The Sacred Pushkar, organised by Teamwork Arts and presented by Shree Cement, an annual two-day confluence, has celebrated a variety of traditions, a whole host of aspects that define and redefine the word "sacred".
If music breaks barriers, spiritual music perhaps can do much more. It certainly helps shed linguistic boundaries, nourishes souls and forges bonds between people of different faiths and cultures. Like the previous two years, the 2017 edition of the festival, which was organised on December 16 and 17, saw rhythms of Sufi, gospel, acapella, folk and North Indian and Carnatic classical music echo across its lakes and ghats.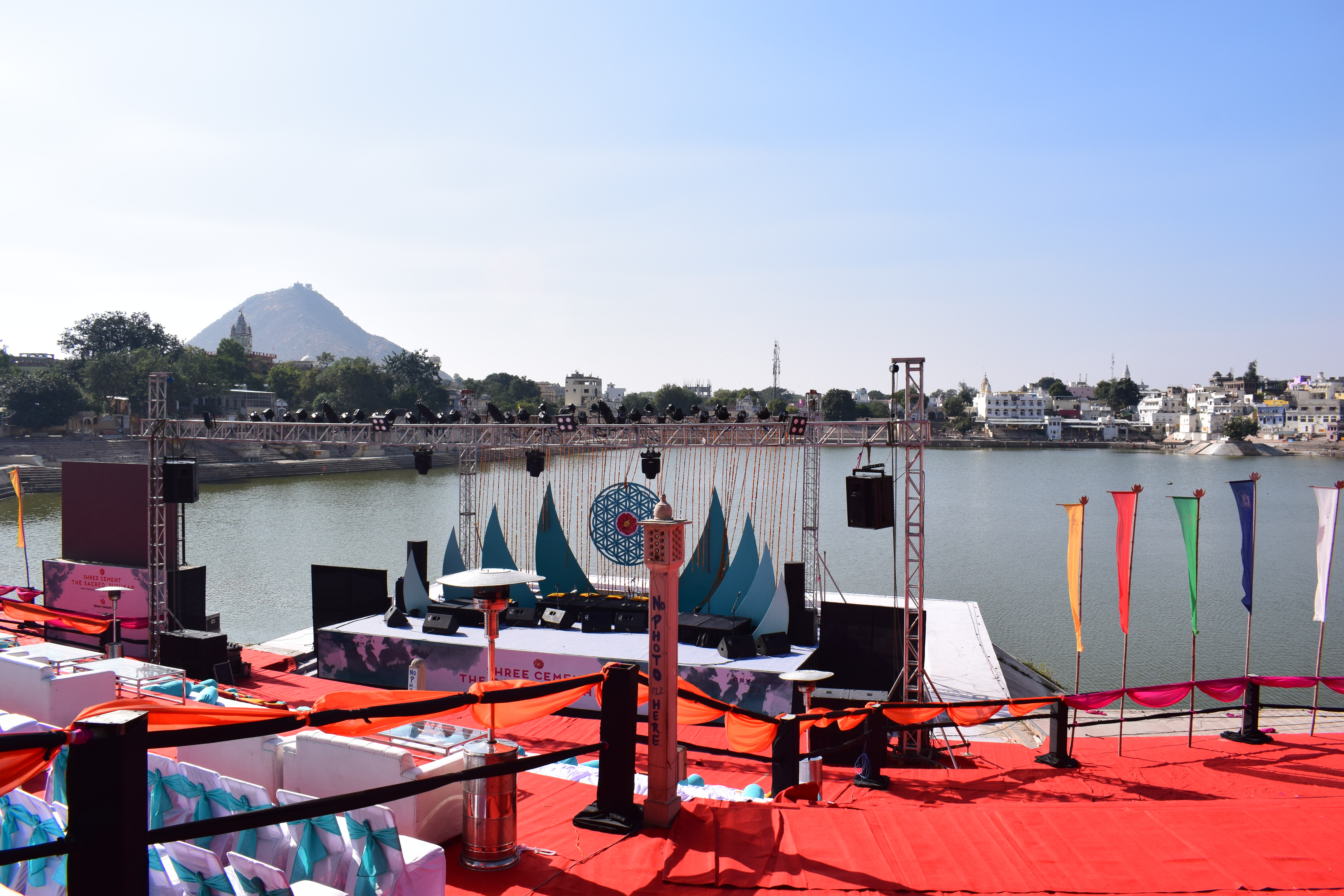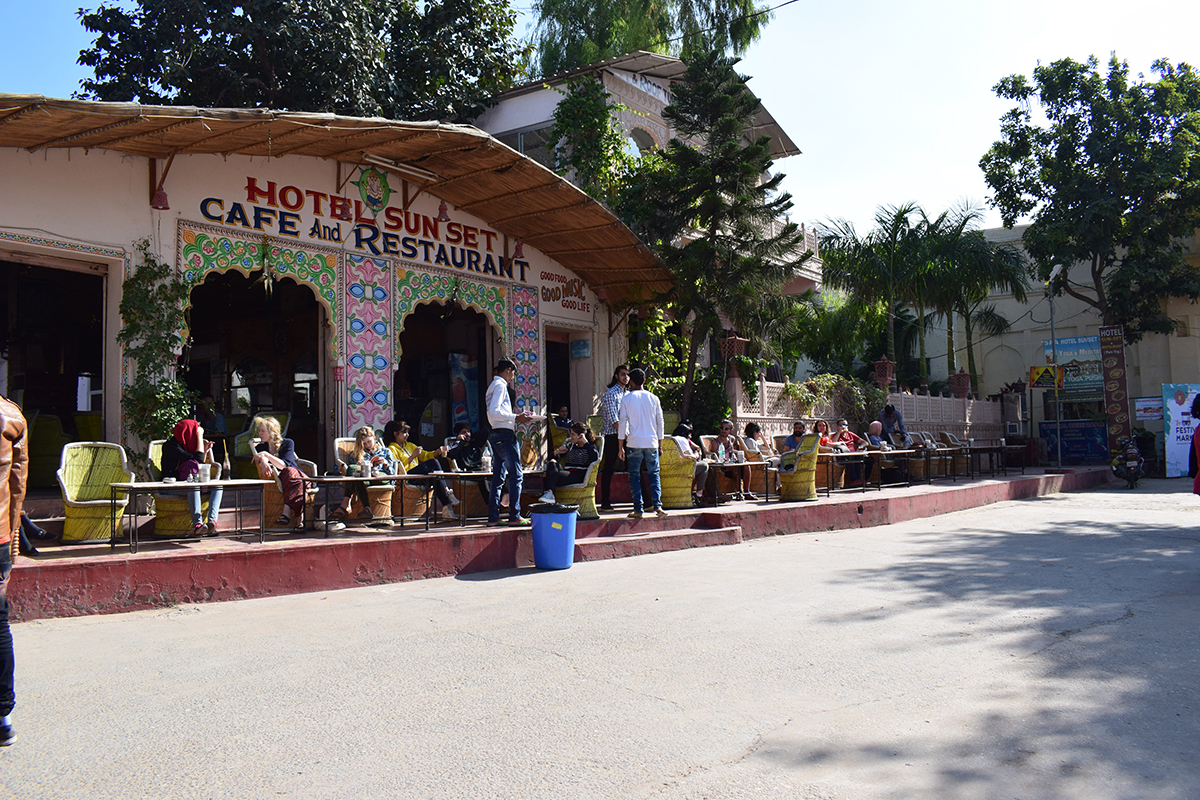 Jaipur Ghat (top) before a performance. A roadside cafe with offers more than just food and drinks (below). Photos: Shireen Quadri

If Sufi music added to the enchantment and allure of the experiential festival, highlighting the celestial nature of music, its eritage walks and "satvik" food on offer aligned with the idea of wellness. The festival, which orients itself in three directions — social, spiritual and cultural — has been showcasing how music and yoga can heal body and soul and make people of different continents feel connected with the sacred town, considered to be holy by practioners of multiple faiths, including Hindus, Muslims and Sikhs, proving how art is essentially a part of divinity.

Day 1 started with Hansa Sharma demonstrating the mantras of wellness with a yoga session between 8-9 am. It was followed by teachings on non-violence and compassion by Geshema Tenzin Lhadron who was last year awarded Geshema, the highest degree in Buddhist doctrine or philosophy, along with several other nuns, who became the first nuns in the Tibetan Buddhist tradition to reach the highest pinnacle of academic excellence. Then, Delhi-based theologian, poet, meditation practitioner, art curator and critic Robinson Robert took enthusiasts on a heritage walk around Pushkar. Thereafter, Gangor Ghat came alive with a nagada workshop by Nathulal Solanki, who has been playing the nagadas for several years now, performing all over India and showcasing his talent at numerous festivals all over the world. Nagada, also called kettledrum, is a conical drum played with the Surnai and Nafeeri (two sticks) and holds a significant place amongst Rajasthan's folk instruments. Solanki hails from Pushkar Sangeet Gharana and has mastered in Kuchamani Khayal. Having performed with Prem Joshua, Indian Ocean and Susheela Raman, among others, he now runs his own school in Pushkar where he teaches nagada to people from all walks of life.
Barely had the sounds of nagada died down when Song Laboratory (Laboratorium Pieśni), a group of female singers from Tri-City (Poland), took over. Known for traditional and polyphonic singing, they are also proficient in acapella singing as well as with shaman drums, Shruti box, Kalimba, flute, gong, Zaphir and Koshi chimes, singing bowls, rattles etc. They create new space in a traditional song, adding voice improvisations, inspired by sounds of nature, often intuitive, wild and feminine.
It was time for another heritage walk by Robinson, who now took people around the amazing ghats of Pushkar. The evening began to bristle with sacred bhajans by Arushi Asgaonkar. Soon, World Ethnic Music Ensemble, a unique combination of musicians from Iran, India, USA, Afghanistan and France, took over. The ensemble was formed by Iranian master percussionist and musicologist Fakhroddin Ghaffari in 2010. Ghaffari plays percussions from different parts of the world. Part of Coke Studio at MTV-India (Season Two), he has earlier shared stage with many the likes of Abida Parveen and Hans Raj Hans. The ensemble was a colourful celebration of a variety of musical traditions: acoustic, electronic Mandolin, sitar, cello, guitar, tabla and percussion. The ensemble's music is steeped in Arabic and Persian flavours, with a dash of Indian folk and classical as well as Flamenco.
Then, Bhanwari Devi and Nathulal Solanki jammed together to bring about the confluence of folk and nagada. It was followed by "Three Generations of Percussion" by Vikku Vinayakram, the Grammy Award-winning Indian percussionist, who plays Carnatic music with ghatam, an earthen pot. Credited with popularising ghatam, Vinayakram has been awarded the Padma Shri (2002), Sangeet Natak Akademi Fellowship (2012) and Padma Bhushan (2014). The day ended with the soulful renditions of Kavita Seth whose Sufi and Classical numbers ricocheted off ghats, the stone steps used to descend to the lake edge.
Members of Laboratorium Pieśni (Song Laboratory), a group of female singers from Poland. Photo: Shireen Quadri
Day 2 began with a session on yantra yoga and Vajra dance by Zoltan Cser of Bulgaria. The Vajra dance is part of the Dzogchen Teachings transmitted by the world renowned Dzogchen master Chögyal Namkhai Norbu. It can be practised by up to 12 dancers, six men and six women. Following precise sequences of steps, the men move in a clockwise direction while the women move counter-clockwise on a big, five-coloured mandala of concentric circles and triangles. The movements are coordinated by the sound of sacred syllables (mantras), which can be found in the original texts of the Dzogchen Teaching.
It was followed by the rendition of Indian Classical ragas on flute by Atul Shankar, who received his training under his grandfathers, late Pandit Bhola Nath Prasanna and Pandit Khelvan ji, renowned exponents of Benaras Gharana. After another round of heritage walk by Robinson (to Savitri temple) and nagada workshop by Solanki at Gangor Ghat, Rashmi Agarwal belted out some Sufi and devotional songs. Agarwal is best known for her many collaborative projects, including "The Z Factor" project with Jazz musicians, combining ghazals with Jazz and "Roohdari Rang", which combined Sufi songs with Kathak dance. Her albums include Rang De Maula, Sentiments, Songs of Kabir, Enchanting Chant, Deep Electric and Soul Box.
Then, it was time for the wonders of guitar and the mysticism of baul music to unfold. Scottish guitar virtuoso Simon Thacker-led band, Svara-Kanti, set the stage on fire with their enchanting performance. The bauls and guitar strings gave way to a session of polyphonic singing and Shaman drums by Laboratorium Piesni. Later, Mukhtiyar Ali rocked the night with his Sufi qawaalis.
At the Sacred Pushkar, music is used as a tool for social, cultural and religious integration. The festival highlights how boundaries — linguistic, geographical and cultural — blur when it comes to bonding over music or meditation. It provides an avenue for the locals to mix with people of multiple race and ethnicities, bringing foreigners and locals together, with the intermingling facilitating, and even enhancing, the understanding of the "other", forging social cohesion.
The sacred town provides a perfect setting and intimate space for conversations to begin at its restaurants and cafes where people could be seen around bonfires, milling about, striking all kinds of conversations.
In today's times, a festival that promotes such an intermingling, acquires a special significance. And Teamwork Arts, which is doing its bit by organising such festivals, including the Mahindra Kabira Festival on the banks of Varanasi in November, must be lauded for such thoughtful initiatives where people from different places find a platform to come together.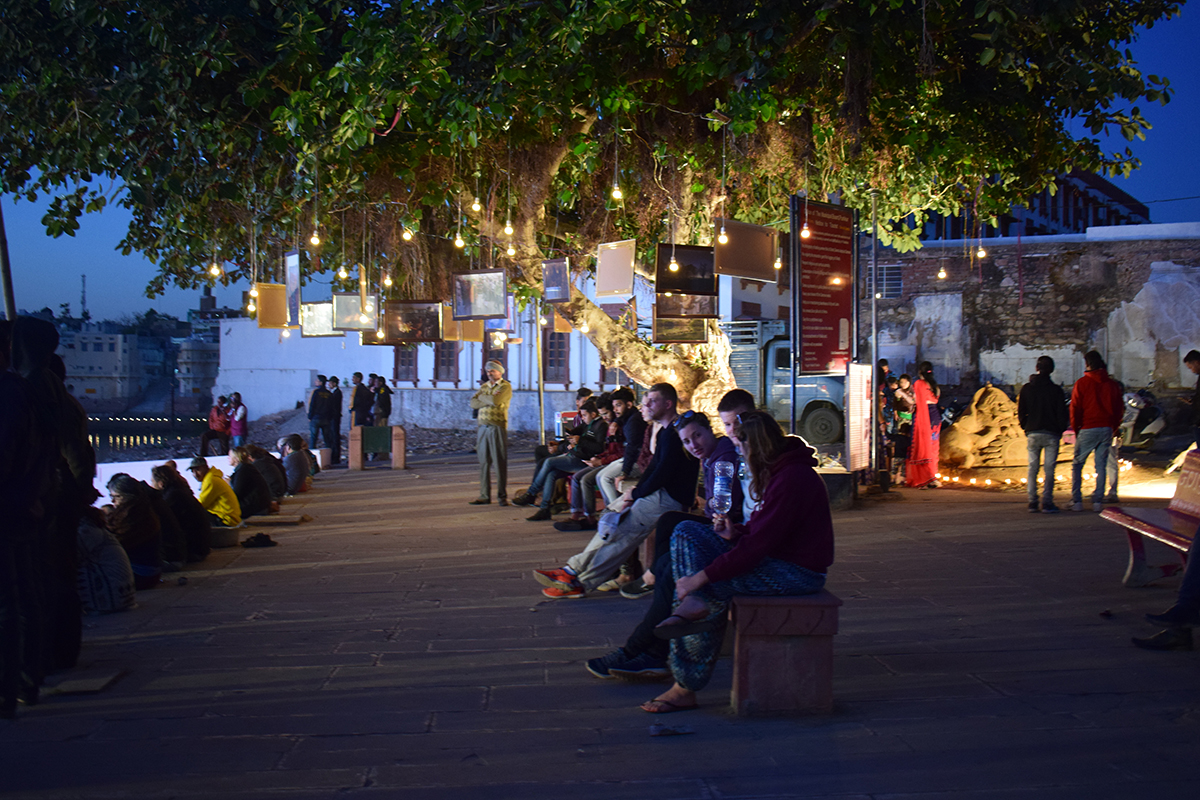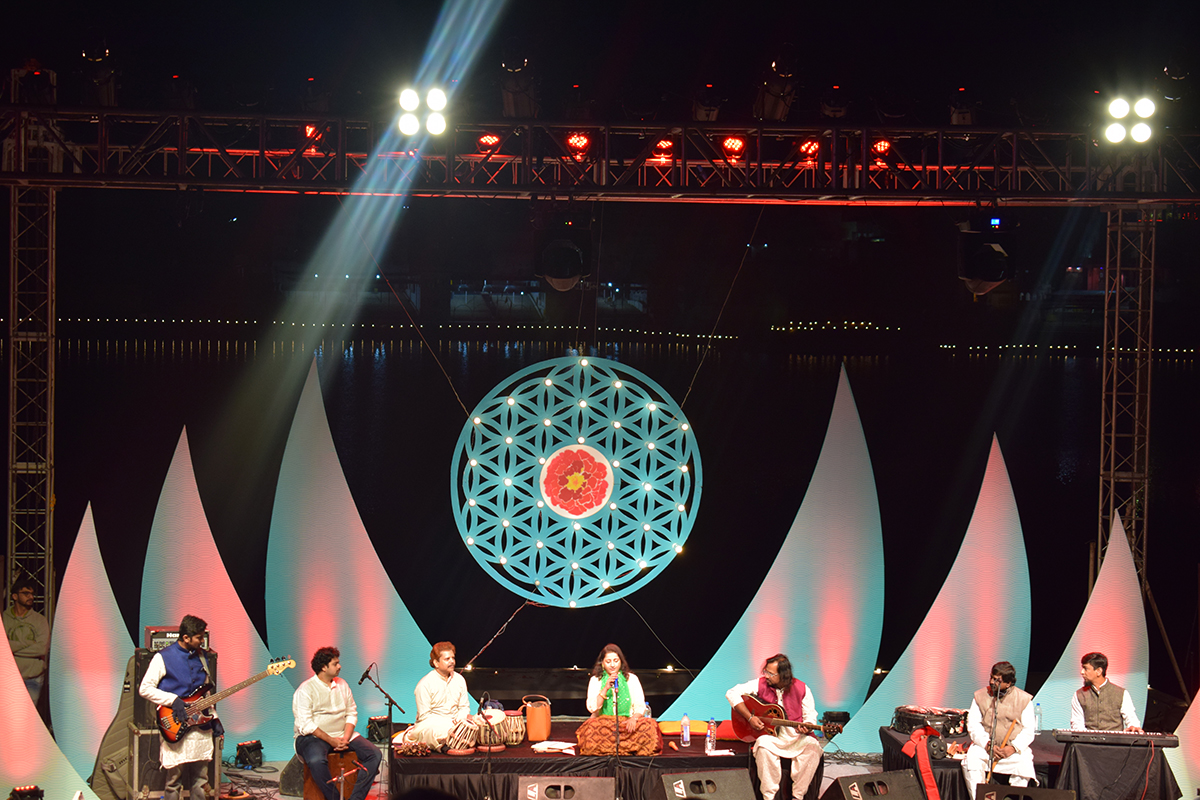 Members of the audience (top) enjoy the performance. Kavita Seth during a performance. Photos: Shireen Quadri
Pushkar has long been known for its annual multi-day livestock fair and cultural fête. It was perhaps time to redefine the town and associate with something more substantial and cosmopolitan. The Sacred Pushkar, a festival that's getting bigger in scale and vision with each successive edition, promises to give tourists a reason to descend on its ghats in December and soak in the breathtaking sights, especially sunrise and sunsets along the ghats. For instance, Jaipur Ghat at one end of Pushkar Lake, is a beautiful venue for the evening musical performances. The periphery of the lake gets defined by night bulbs. There are candles lighted along the seating area in votives. The venue is decked up. Wall artists make colourful murals on the wall near the venue. There is sand art, decorated camel cart and makeshift tents for shops. The cafes are bustling with young and old, munching, smoking or sipping tea or coffee to keep themselves warm. The Westin Pushkar Resort & Spa, the luxury hospitality partner for the event, has luxurious 80 villas with private pools and fitness centre.
According to Sanjoy Roy, Managing Director, Teamwork Arts, his personal takeaway from the event was the exceptional diversity of music and representation of the sacred from the Nordic countries. "Waking up each morning to the sounds of flute drifting across the Brahma Kund was magical and captured the very essence of this quaint old-world hamlet set amidst the hills and sand dunes of Rajasthan," says Roy.
Roy says that music and the arts are a perfect way to showcase the spiritual essence of creative artists. "In today's somewhat divisive world, we find that art knows no language, caste, colour or religion. It's a pure celebration of the sacred within us and is reflective of the outer environment. Keeping all of these many thoughts in mind, we have been keen to create platforms for different arts across sacred sites in India and abroad," says Roy.
However, putting all this together has hardly been a cakewalk. The challenge has been to bring so different artists and discover the wealth of their "passion and diversity".
Roy says, "In 2017, we travelled through the desert sands of Rajasthan to the icy winter landscape of the Nordic countries, taking in the many different traditions and forms. The challenge always remains to make the experience magical and get people to absorb the surrounding atmosphere so that they stop a while and search within." The next edition of The Sacred Pushkar, says Roy, will be held on 12- 14 October, 2018. "We are planning to add more meditation and yoga elements to the festival. Our main focus will be on mind, body and soul. So, each and every element of the festival will reflect that, including full organic food trail and more meditation and spiritual morning and evening music," says Roy.
For those visiting Pushkar at the time of the festival, the town acquires a new hue. Minal, a student of the Indian Institute of Crafts and Design in Jaipur, who is doing a research on the cultural exchange in Pushkar, says he rediscovered Pushkar on his second visit to the city which coincided with the Sacred Pushkar festival. "The heritage walk aroundthe city and the beautiful cable ride to Savitri temple, dedicated to Brahma's wife, Goddess Savitri in the Ratnagiri hills, by Robinson were fascinating," he says.
For Pushkar, the festival is akin to an annual rite of passage that helps the town take a peek into its soul, aided with hymns and chants.
Donate Now
Comments
*Comments will be moderated
Really nice information on Pushkar. This event is looking really nice as far as you have described and i would like to thank you as thi article helped me in one of my assignments on this event for
Chalta Purza
. Thank you for posting this beautiful blog.
Rohit Mittal
Feb 16, 2019 at 09:02