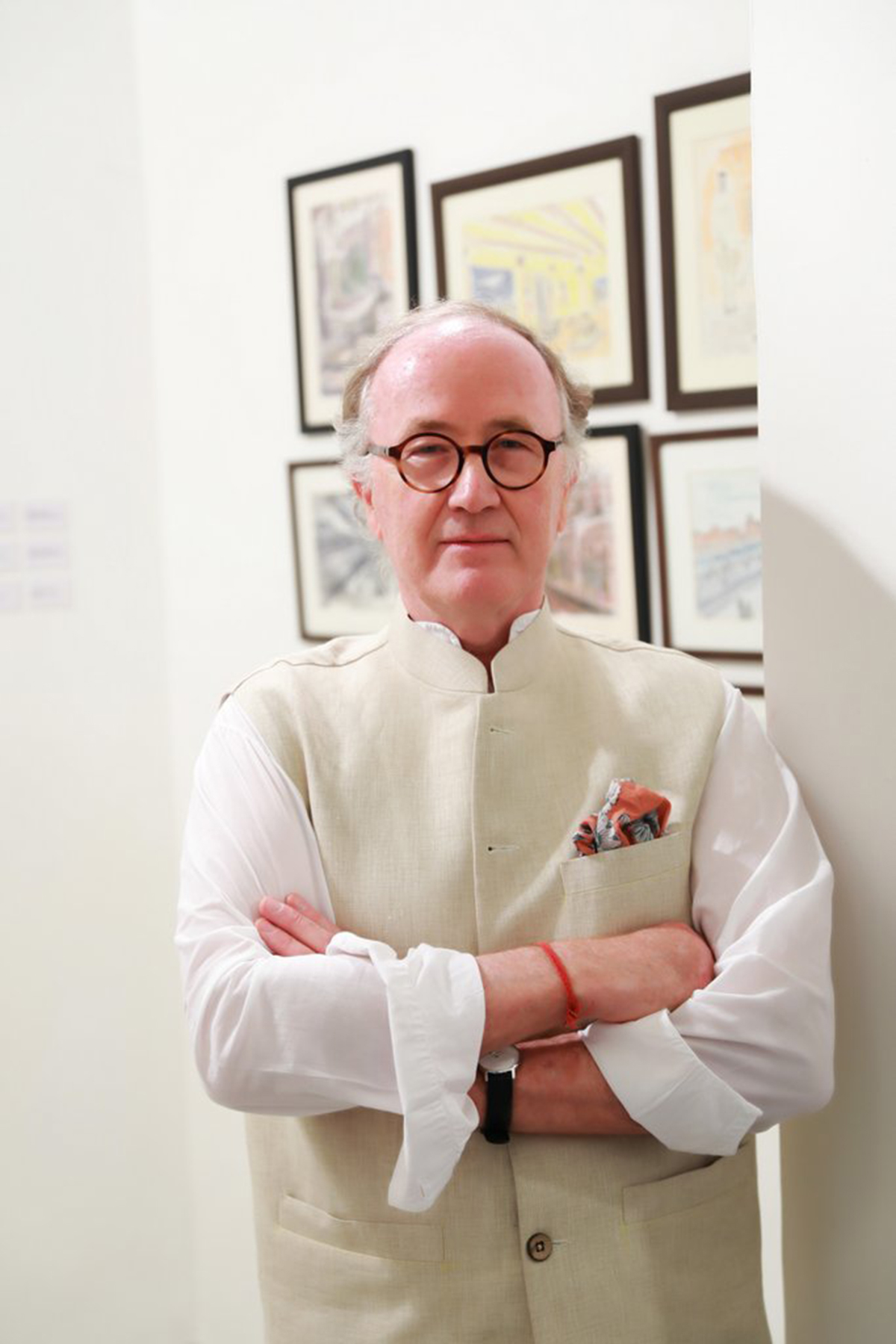 Michel Testard. Photo courtesy of the artist
Reflecting on what you have done and might do next is an important part of the creation process, says Michel Testard, who was born in Japan, educated in France, travelled and worked in Africa, Europe, the US, Middle East and China. His wanderings in India have led to Glimpses of India, a show which was held at Bikaner House in New Delhi between May 17-27. The India chapter, he says, is the natural continuation of a never ending journey — travel — that has taken him around the world
Trained in the elite Ponts et Chaussées engineering school (Paris) with a subsequent MBA at INSEAD, Michel Testard was not destined to remain an international management consultant. India cut across his path in 2000 and became his 'Samadhi', transforming him from a business advisor to a loving painter of India.
A natural virtuoso in sketching, which he has practiced from an early age, Michel needed something more to channel his talent and focus his imagination. India's powerful, diverse, complex, mysterious world inspired him to deepen his talent and focus his imagination through a twenty years journey.
Everything in India fascinates Michel..... India of the past with its forts, havelis and ruins and the names of the forts which are so intriguing (Golconda, Mehrangarh, Bala Hissar) have evoked to the European mind the 'Desert of the Tartars' after Dino Buzzati's novel......Modern India and urban India with its bustling streets, crumbling buildings and the hopeful/scary dream of smart or ma(d)xima cities......the people of India, so diverse, colourful, human and wise ... and the musicians of India, the extraordinary sitarists or tabla maestros whom he happened to meet through his own journey, learning the sitar. To these, Michel adds travel sketches or fairy landscapes of rural India and also funny cartoons of travel or east/west metaphors.
In this interview, Testard talks about his creative process and his approach to choosing a variety of forms and medium. "Reflecting on what you have done and might do next is an important part of the creation process," says Testard, who was born in Japan, educated in France, travelled and worked in Africa, Europe, the US, Middle East and China.
His wanderings in India have led to Glimpses of India, a show which was held at Bikaner House in New Delhi between May 17-27. The India chapter, he says, is the natural continuation of a never ending journey — travel — that has taken him around the world. Excerpts from the interview:
Shireen Quadri: The exhibition, Glimpses of India, chronicles your encounters with the sacred and the profane in India. Tell us about the works that became part of the show. Are there any major themes that bind them all?

Michel Testard: The show is organised around seven themes: comics, ruins and forts, people of India, Indian music, landscapes and interiors, maxima cities, and finally Thakurs and rajas. What binds them together? They are all Indian subjects! And they reflect my curiosity, amusement, passion and admiration for the incredible diversity of India.
Shireen Quadri: Trained in the elite Ponts et Chaussées engineering school (Paris) with a subsequent MBA at INSEAD, you moved beyond being just an international management consultant, since India cut across your path in 2000. How central has India been to your creative quests?
Michel Testard: I suppose I always had some sort of creativity at drawing funny sketches, making cartoon stories or creating a picture to depict a business situation in my consulting work. But my discovery of India had a multiplier effect, both in terms of subjects described and techniques explored. I have greatly improved my 'seeing' in India, and I have been encouraged to try almost all the techniques of fine arts – pencil, ink, wash, watercolour, acrylic, oil, collage and even sculpture. And I have done so, moving from small sketches to mid-size and now large canvases. So, in a way, I think that India set me free!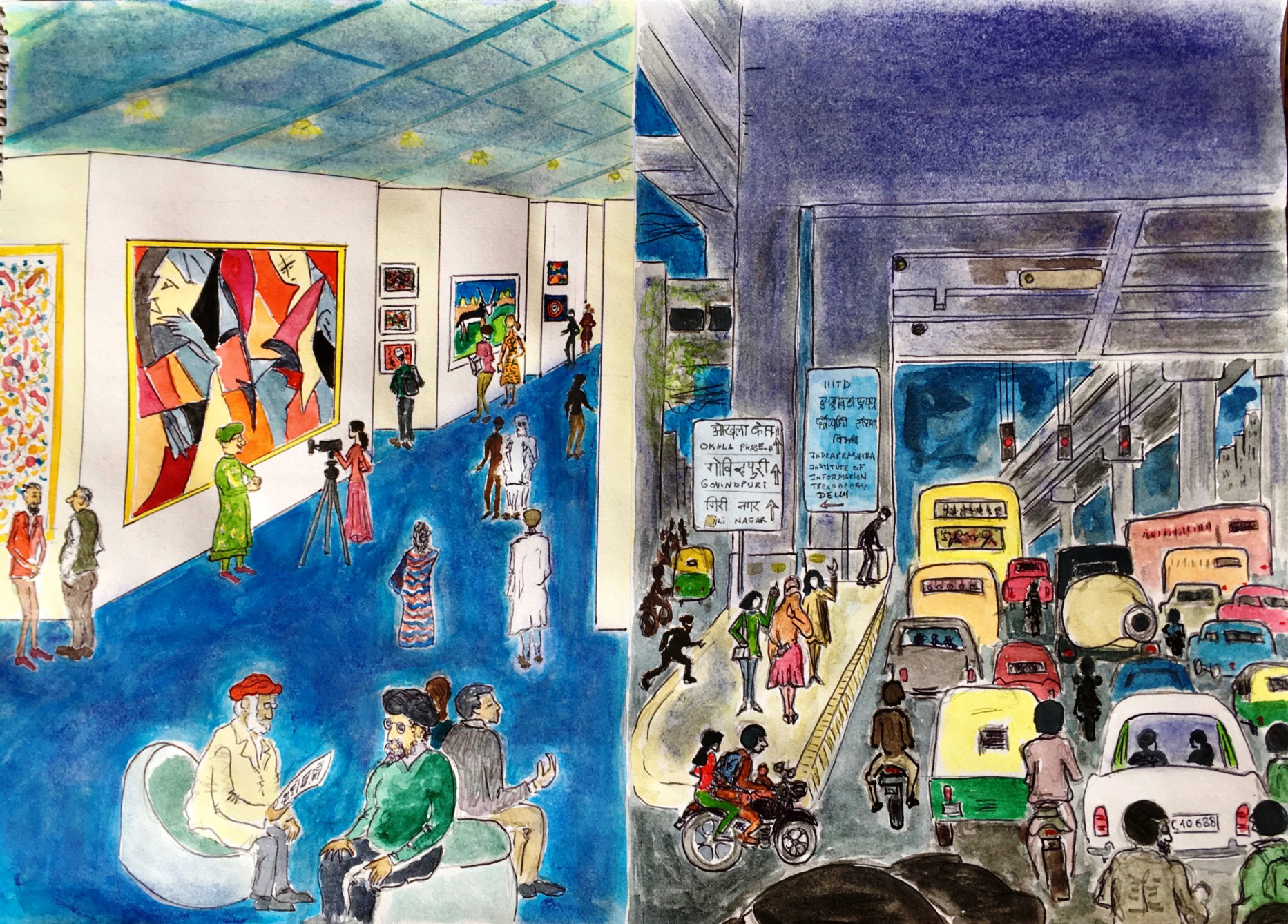 India Art Fair 2018: Art and glamour indoors, chaos and suffocation outdoors. By Michel Testard.
India-Art-Fair-2018---Art-and-glamour-indoors,-chaos-and-suffocation-outdoors-by-Michel-Testard
Shireen Quadri: These works traverse a variety of medium, forms and techniques. How do you settle on a particular form, medium or technique?
Michel Testard: I never had a preference in terms of technique and size. It has been a journey of curiosity, trial and experiments. I am very much at ease in drawing and ink wash in small formats and was encouraged by some friends and teachers to go beyond my comfort zone. So I went on trying new techniques on larger formats and canvases. And now I shift to one technique to the other, depending on the subject, format available and my mood. But often, when I come back to painting after a break, I have to restart by doing small exercises. Call it 'practicing scales', like I do when I warm up on my guitar or sitar before playing a serious tune. Regular practice in music is a must — says my sitar guruji — I find it is the same in painting.
Shireen Quadri: What are some of the most striking things rooted in the Indian reality that have settled at the core of your craft, helping you hone your skills?
Michel Testard: Everything, every day is striking in India! Every day you have a surprise, everyday you meet the unexpected, everyday you see in a quirky scene or find yourself caught in a funny story. Examples of this for me? Meeting Prem Baba, a Brazilian swami at Rishikesh, riding an Enfield from Delhi to Leh, discovering the meaning of Darshan on a TV channel with Sri Sri Ravi Shankar, attending the Jagannath yatra at Puri, near crash on Air India flight at Delhi Airport (the front wheel of our Airbus A 320 was not out), riding an Enfield through the mother of all barish in Rajasthan (in July 2013, when thousand pilgrims got stranded in Uttarakhand), attending an opium ceremony in Rajasthan, discovering Tipu Sultan moaning tiger, finding Imran Roy sitar maker workshop in Kolkata etc...This is what got me so attached about India's world: the daily surprise and incredible contrasts in daily reality.
Shireen Quadri: How does your approach vary according to the subject you choose to portray — forts and havelis, music maestros, streets and cities?
Michel Testard: It is a question of reality — where I am at a particular point in time — and a question of mood also. If I am travelling, there is a good chance that I will be sketching what I see — people, landscapes, ruins and forts etc. — if I am back in my studio in Delhi or else, I can pose and reflect on something else. And move to some imaginary or abstract themes. And sometimes I do nothing. Nothingness, just reflecting on an image, or looking at an art book, is often a necessary transition. I need moments of internalisation and maturation. A friend finding me in such a moment might say 'he is doing nothing'. In fact, reflecting on what you have done and might do next is an important part of the creation process.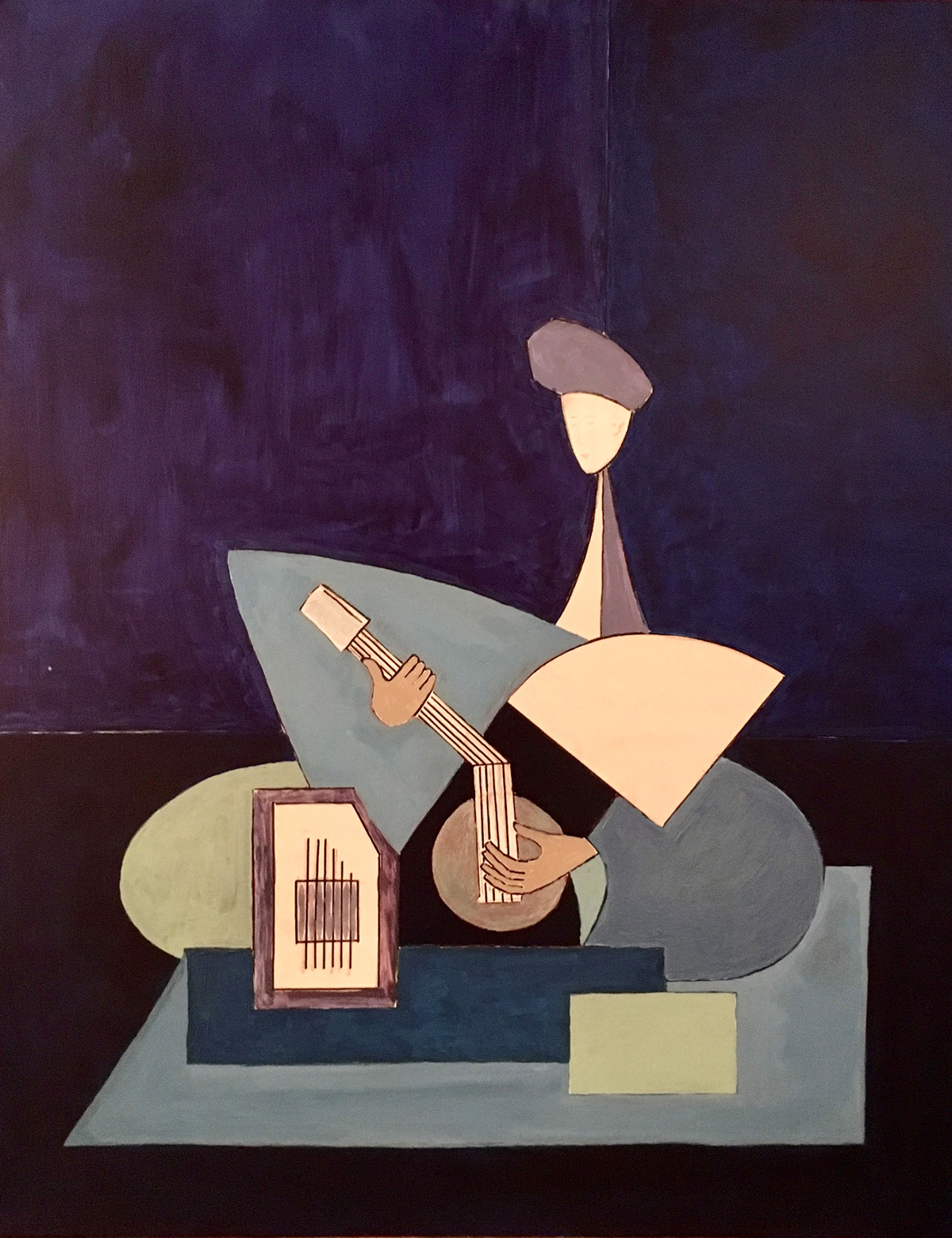 Sitarist in blue, cubist style by Michel Testard
Shireen Quadri: Do you think your works get enriched by a certain outsider perspective since you would look at these realities with a different eye than those who do not have the privilege of a bi-cultural perspective?
Michel Testard: Difficult for me to say. The feedback I have got from Europeans is that they recognise a flavour of India that they fondly remember in my work. And Indians tell me that they see a different perspective at India through my work. An Indian lady wrote 'Thank you for awakening both nostalgia and concern, and for taking us on a journey through India.' Another 'the ethos of the Indian scene has been so well captured'. And a third ' Your take on India and the sheer madness is really quirkily captured and the humor is so refreshing'.
Shireen Quadri: You have learnt to play sitar and have been doing that for a decade now. Tell us about what fascinates you about Indian music?
Michel Testard: Having played western classical guitar for many years, I fell in love with Indian Music at the very start of my discovery of India.
I have had the privilege over the years to listen to some of the greatest classical musicians of India: Singers like Bismillah Khan, Bhimsen Joshi, Kishori Amonkar, inspiring Sufi qawallis, great sitarists like Ustad Shahid Parvez, Shujaat Hussain Khan and many others. Each concert for me is a moment of 'bliss', as Indian music is often deep, profound but not sad, bringing moments of contained emotion, which takes one's soul to the edge of the sacred. I love the majestic venues of India Gate, Nehru Park, Humayun's tomb.
After some years, I decided to try to play Indian music and chose the Sitar — as it is close to the guitar: the hand holding and finger moves are similar. I have now been playing the sitar for about 10 years with my guruji and met reputed and learned sitar makers like Rikhi Ram in Delhi. Learning Classical music helped me to better understand the Indian mindset, as it is taught in a way which is very different from the Western way.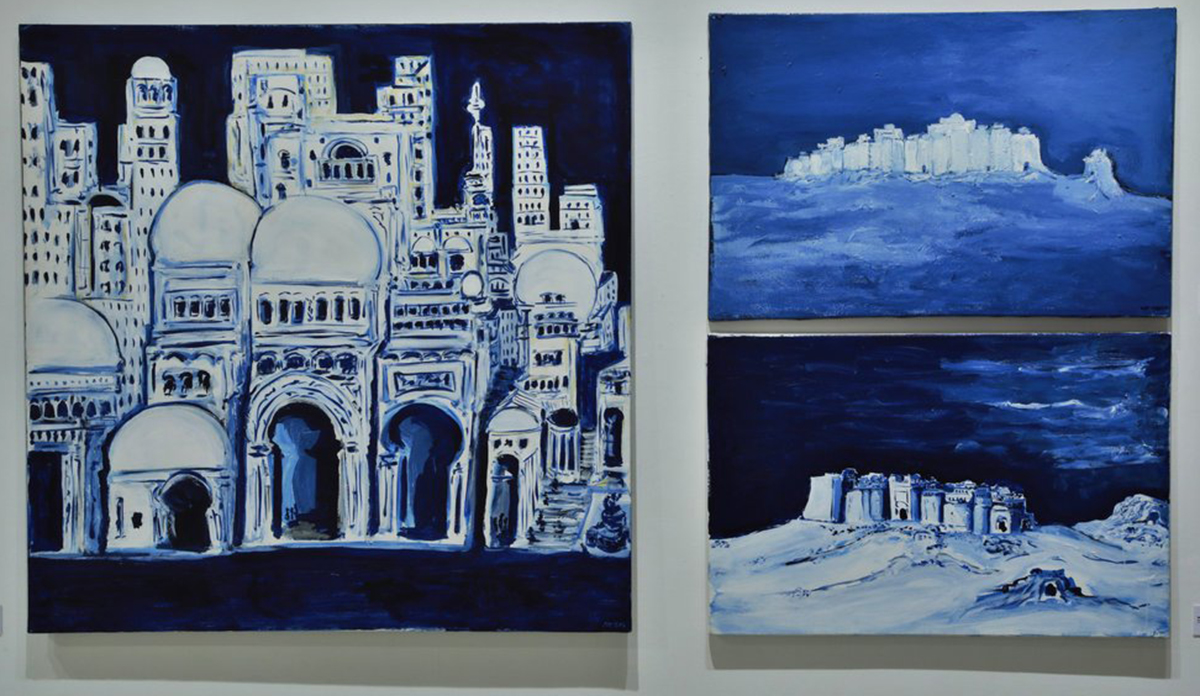 Shireen Quadri: Even though you're self-taught in painting, some of the conspicuous influences on your work seem to be those ofFrench cartoonists Wolinski, Reiser, Mordillo to greats like Braque, Chirico, Giacometti, Duffy and Nicolas de Stael. Tell us how they and others have helped shape your craft?
Michel Testard: The cartoonists shaped my early comics style — I sketched elephants and lions like in Babar, people like in Tintin, and later president de Gaulle or Pompidou like political cartoonists such as Wolinski and Reiser. But Ideveloped my own style at sketching gurus and fakirs very early!
For more serious painting, it is just a question of admiration. I cannot say that I have tried to imitate the techniques of great masters or contemporary artist, I just love their work. And I am influenced by their results. For instance, I have done my early forts and ruins in ink and wash, but then moved on more abstract ones, remembering the style of Nicolas de Stael.
Shireen Quadri: How central has travel been to your wanderings as a creative soul?

Michel Testard: Existential! I am a wandering soul, born in Japan, educated in France, travelled and worked in Africa, Europe, the US, Middle East and China. So, my wandering in India is the natural continuation of a never ending journey.
Shireen Quadri: Please share something about your forthcoming project.
Michel Testard: In terms of painting, I want to do perhaps more on the city, at three levels: the street, the colony and the entire megalopolis.
I am planning my next painting exhibition in Paris in the fall. And I am working on the project of an Art and Environment Festival in India for next year.
Donate Now
Comments
*Comments will be moderated