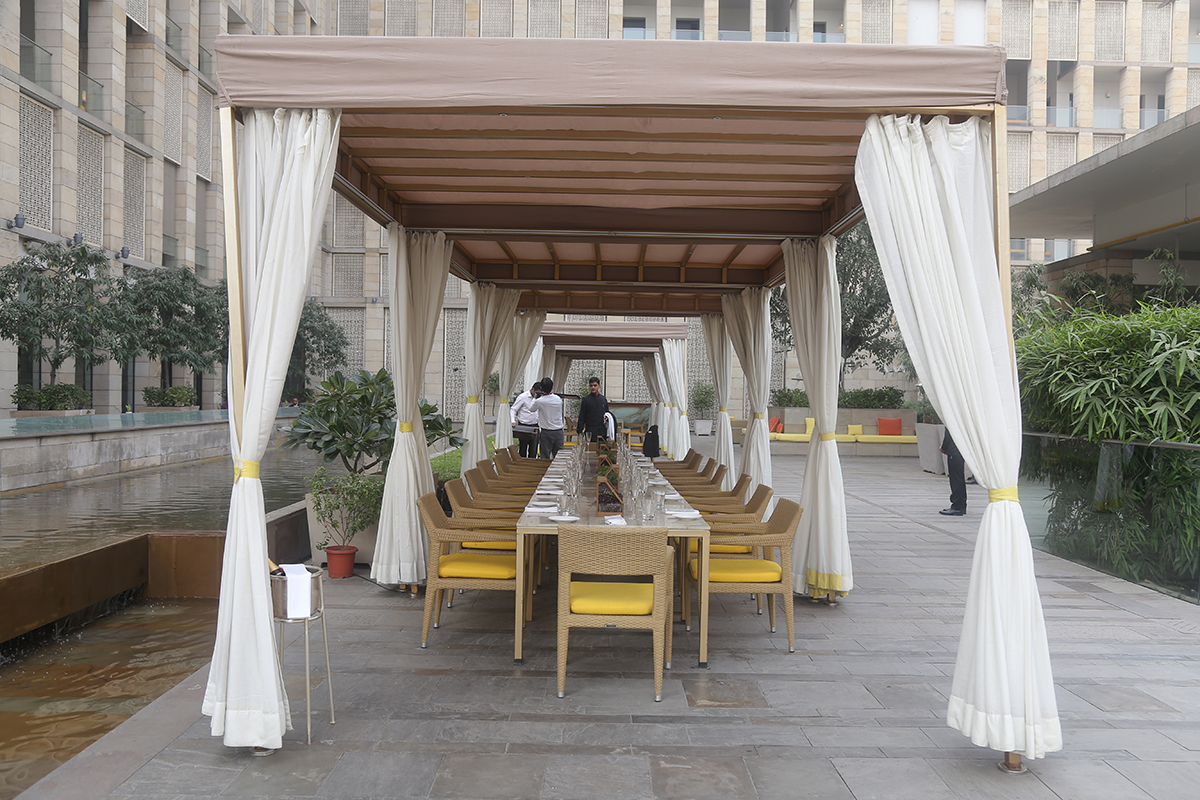 Photos courtesy of Masque
At an exclusive pop-up in Delhi, Masque,the Mumbai-based high-end restaurant, whips up gastronomical delights
The exclusive pop-up of Masque, the high-end restaurant based in Mumbai, was held at The Lodhi in Delhi early in December. Owner Aditi Dugar, co-founder and head chef Prateek Sadhu and event curator Raaj Sanghvi together put up a 14-course elaborate and impressive meal which enthused food connoisseurs in Delhi.

About 19 sous chefs worked in an open kitchen to whip up gastronomical delicacies. They served rare food in style, in a setting that was elegant and graceful. It was quite an experience to eat fresh seasonal wild harvests from Ladakh and Kashmir.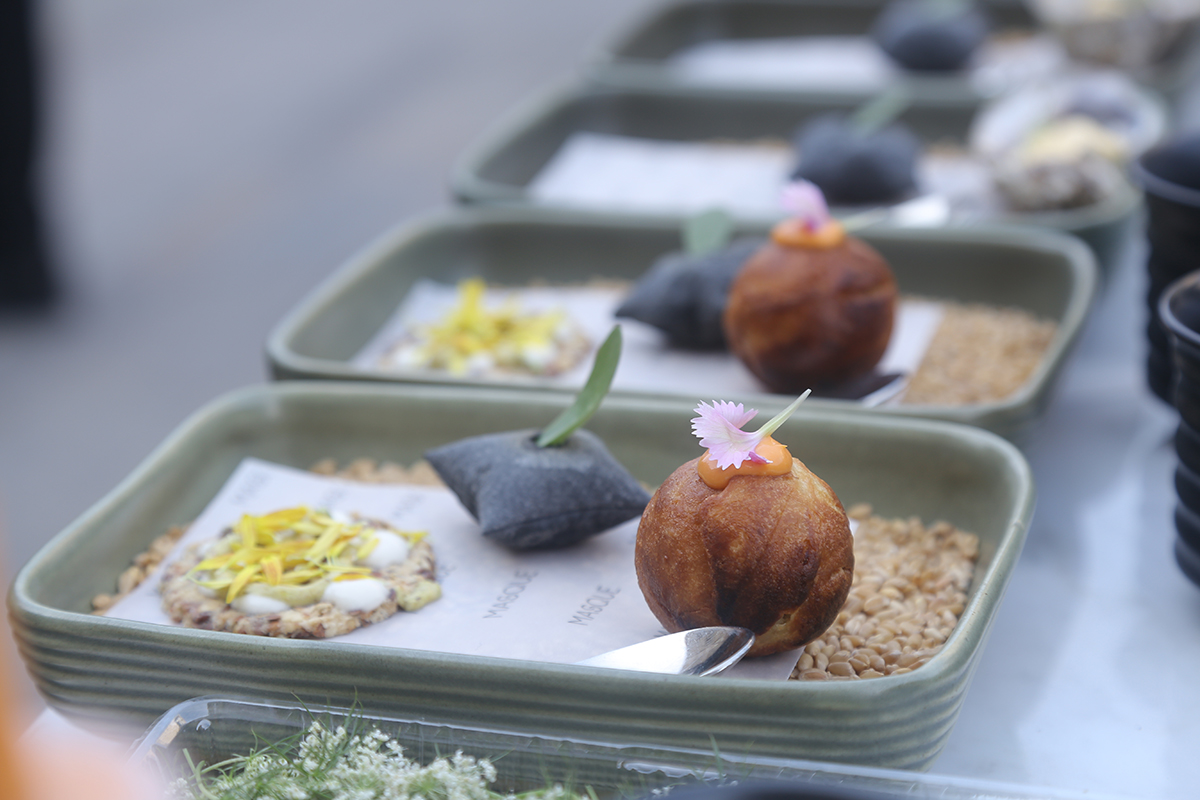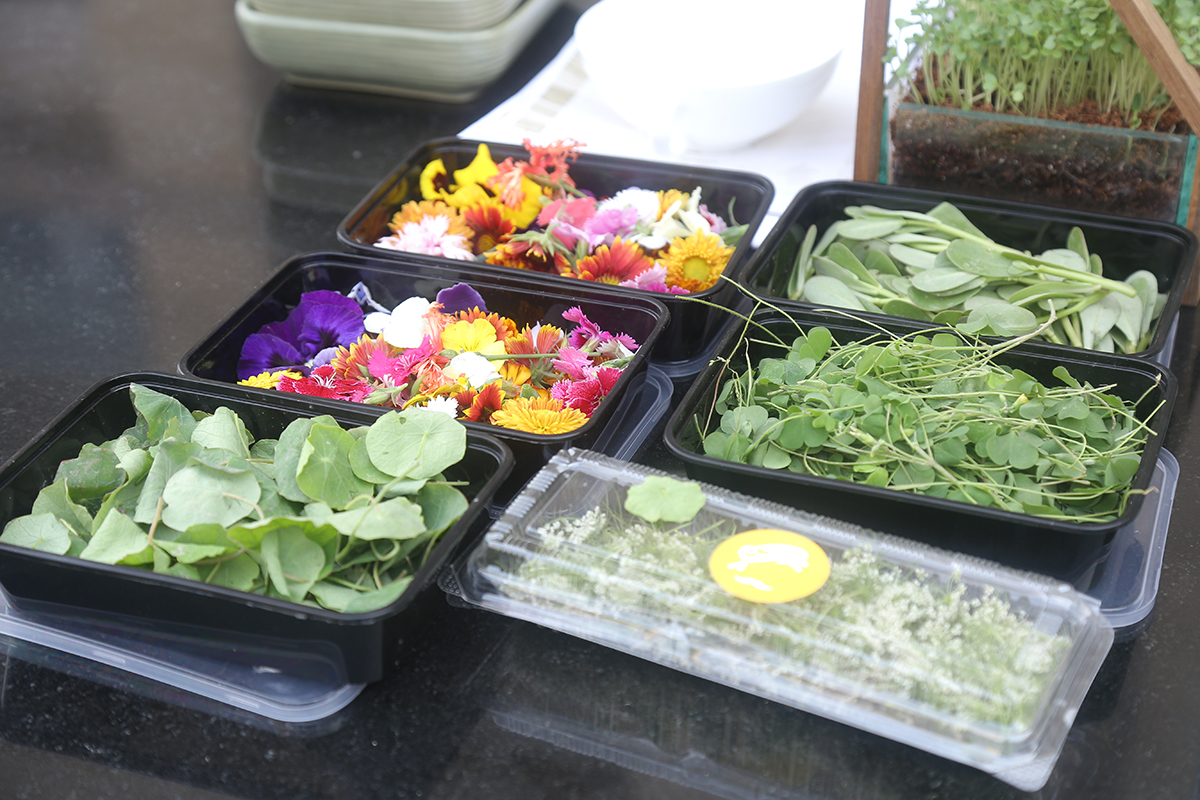 Chia Seed Toast, Charcoal Pillow, Takoyak (top). Edible flowers and leaves (above). Photos courtesy of Masque
Highlighting the concept of Masque, Dugar said, "We are a wilderness-to- table restaurant. All our produce comes from within the length and breadth of the country. We practise a lot of foraging techniques where we really reach out to far-off areas beyond our reach in India and we work with a lot of forest departments and small-scale farmers to help us bring lost ingredients to the table. It's a produce-driven restaurant and we do work with local farms in and around the areas. It's a very seasoned menu and it changes every month. Prateek Sadhu is a Kashmiri. So, the menu draws on the Himalayan belt and the Kashmir region where there are clear climatic changes. The bar also echoes the same philosophy. It's like a cocktail kitchen. We don't really like to call it a bar. At Masque, the bar is like a kitchen set up outside. And one can choose a pairing according to taste and can name a drink. When you come to the bar next, you can re-order your cocktail. We store the recipe and you'll get exactly the same combination."

As Dugar spoke, we went ahead to make our customised cocktail drinks. Soon, it was time for the sit-down lunch. The Sourdough Katlam bread was served at the table. "We have been serving this since the hotel started," said head chef Prateek Sadhu. The hand-made butter was creamy, smooth and delicious.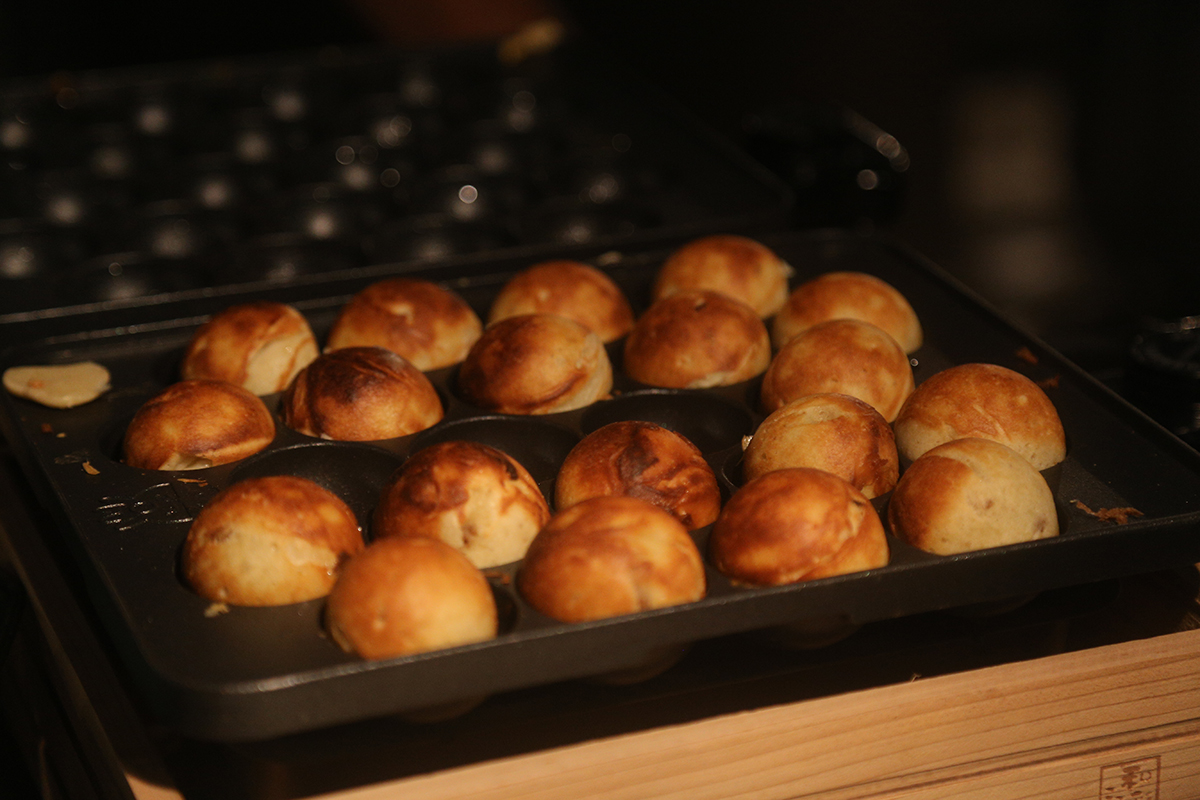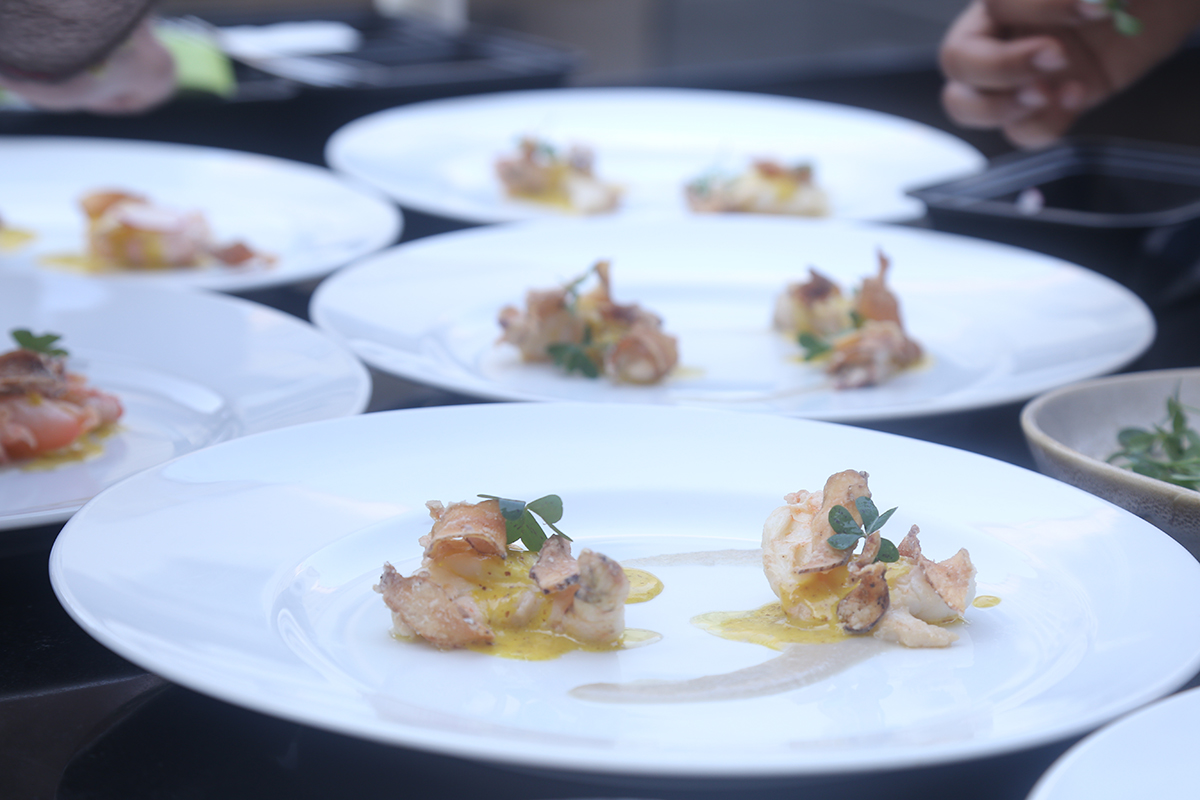 Some of the rare ingredients used at Masque are praan — Kashmiri shallots with garlicky notes — green almonds, chinar leaves, wild nettles, mallow, sea buckthorn. Photos courtesy of Masque
The chef also directed us not to stir or mix the green almond broth that looked and tasted exotic, cooked in three different oils. "It has to be drunk as Japanese drink tea. Just pick up the cup and drink," the chef directs us.
Then, there was sea buckthorn, brought from the northern part of Ladakh, close to Pakistan. "This August, we went there and foraged 150 kilos of sea buckthorn. We do our R&D in the kitchen and created this cuisine with pine salt and black pepper cream at the bottom. This is our intermediate course," says the chef.
One of the dishes was made with the second rarest mushroom on the planet. Some of the rare ingredients that are used in the Masque kitchen are praan — Kashmiri shallots with garlicky notes — green almonds, chinar leaves, wild nettles, mallow, sea buckthorn etc.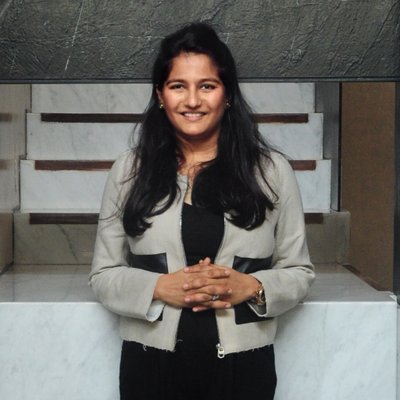 Idea is to elevate hidden ingredients: Aditi Dugar

What led you to start Masque and what was the thought behind the selection of the city? What are your expansion plans?

I've always thought there is too large a gap between the international food scene and our local one, though that's quickly changing; Prateek and I also shared the concern that not enough people were looking inwards for flavours, techniques and ingredients. There is such an abundance of good produce here, and it deserves its due. There still remain so many local cuisines and hidden ingredients to explore. That's the idea that Masque was built on: local ingredients and flavours, elevated to the next level in ways people wouldn't expect. There are no expansion plans for the restaurant on the books yet, but we are exploring the idea of setting up a lab or test kitchen to focus on R&D.
What were your expectations from the Delhi pop-up? How much do you think you've achieved in this context?
We wanted to explore a new market and introduce Masque to it, and have the opportunity to educate larger audiences on the produce of India. We wanted them to experience what can be gained out of looking inwards, so to speak. No matter how confident you are, there's always a little bit of nervousness reaching out to a new audience! That said, the response was overwhelming — we received incredible support from the industry, media and diners, who were very receptive to the whole concept.
What are your next plans?
I also run a catering company called Sage & Saffron that's on the charts for expansion. For Masque, we have a bigger vision for the restaurant still; it's very focused and driven in a particular direction right now, and it's too early to expand. We're currently investing more in the research we're doing to achieve that vision.
Your advice to young entrepreneurs starting out in the industry?
Take risks to challenge yourself and your mind — if it's not making you nervous, it's not challenging enough!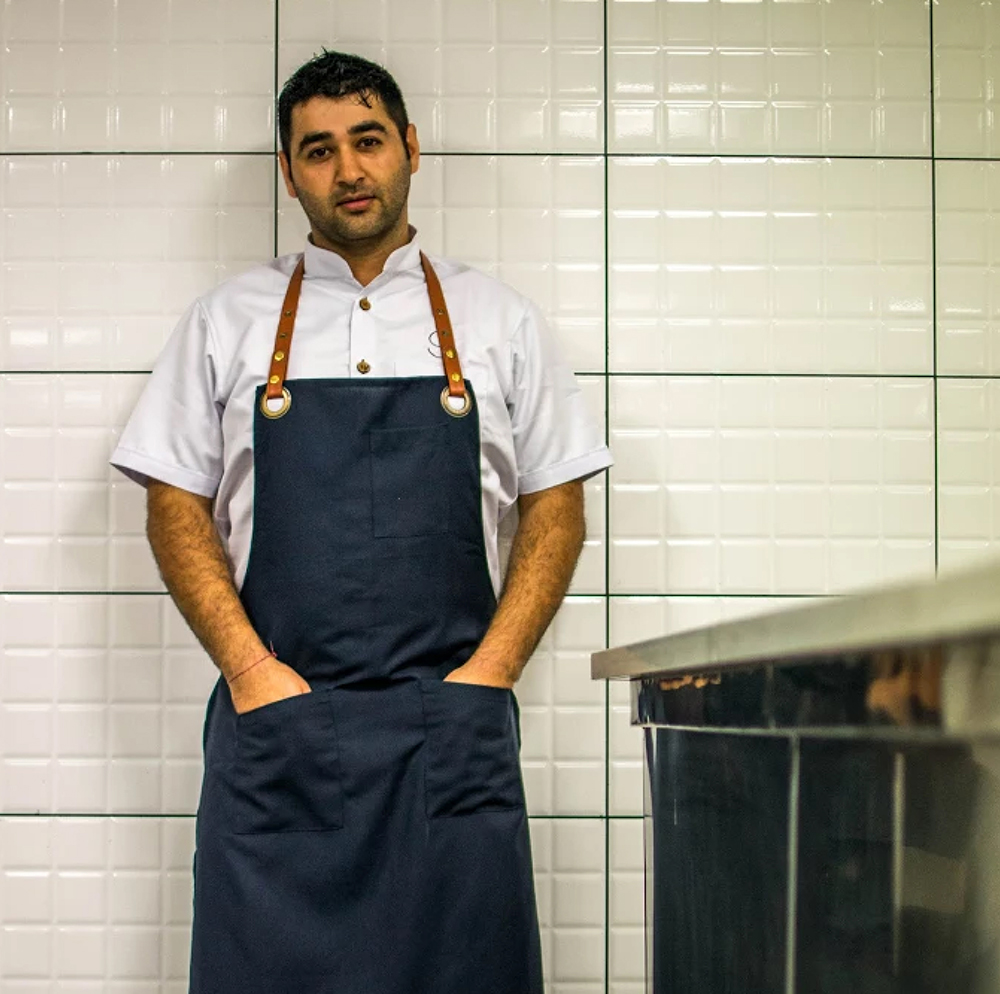 Rediscovering India's brilliant produce: Chef Prateek Sadhu
What made you plan a pop-up in Delhi? What were your biggest challenges of the Delhi pop-up?

I've done a fair bit of travelling this year — Mexico, the US, Russia and Scotland to cook, Jammu & Kashmir and Uttarakhand to forage — and we thought it was time to share a little piece of Masque within India as well. We wanted to showcase what we're doing at the restaurant and shine light on some of the amazing ingredients we found, especially up north.
The Lodhi was very supportive and opened up their lawns to us for the pop-up. But this was more than just a few of us travelling to another city to take over a restaurant kitchen — we wanted to make it a holistic experience, as close to the original as possible. We built an entire outdoor kitchen from scratch on the lawns (thanks to FCML!); we only faced a couple of minor technical glitches over the course of the two days, other than which everything flowed smoother than we could have imagined!
What have been your takeaways from this event?
That audiences are extremely receptive and excited to expand their horizons! One of our initial hesitations about a restaurant like Masque was how responsive people would be towards it, but our guests consistently relieve those concerns. It's a super feeling to share the excitement of discovering — or rediscovering — India's brilliant produce with diners that are equally thrilled to learn.
What are your favourite cuisines from the Masque menu? What do you think was the major draw for Delhi food enthusiasts?
I can't quite point out a cuisine, given that we don't have any one in particular, but some of my personal favourite ingredients from The Lodhi menu were sea buckthorn, tiny and tart berries from Ladakh; some brilliant local oysters, Kashmiri morels and green almonds that we use in an almond broth served with three oils. We also had a great batch of passion fruit, apricots and sunchokes — it's so hard to choose!
Tell us how you go about cooking with foraged foods?
It's tricky. First of all, because we have a very small window within which to transport them back to the Masque kitchen intact. Then, of course, quantities are limited, so we can only set aside so much to experiment and play around with. There are inevitable hits and misses, and you have to keep it very concise so as to not waste ingredients. We try not to mess around with the flavours too much.
Donate Now
Comments
*Comments will be moderated