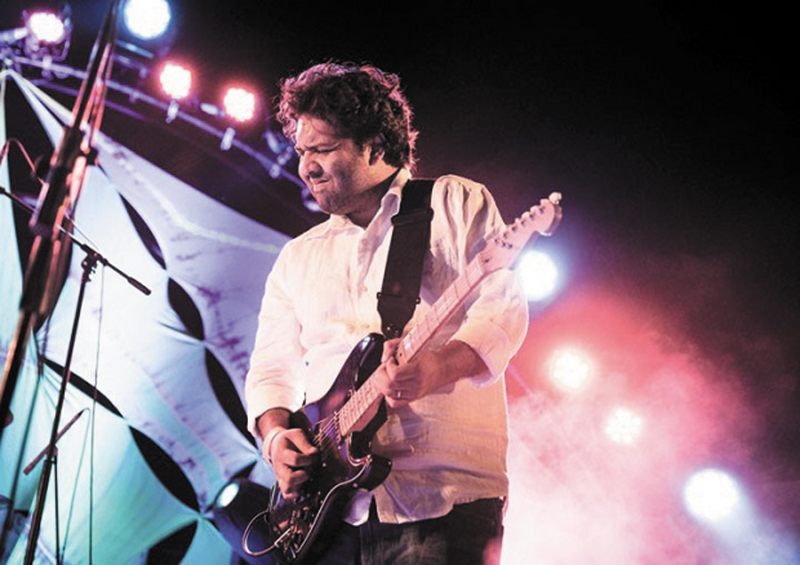 Warren Mendonsa
Every so often comes a time when a legend rises from the crowd not to stake claim to any coveted spot, but to create his own. Warren Mendonsa is that living legend but with a decidedly unassuming demeanour. He is soft-spoken, gentle and incredibly funny off stage and while on stage he's all of that as well as a colossal talent house who, with a few effortless riffs, has already caught your attention.

His band Blackstratblues is among the select Blues bands that are constantly pushing the genre into the mainstream. It would not be out of place to say that the tremendous goodwill Mendonsa has thanks to his pre-BSB stint, coupled with his jaw-dropping genius, has meant that his Blues outfit had a ready audience that straddled multiple genres. With two albums already in his kitty, Mendonsa's fans waited patiently for the virtuoso to release his latest offering The Universe Has A Strange Sense of Humour. Ably aided by his charming wife Uttara in spreading the cheer about this musical Christmas in March, Mendonsa released his album online to much appreciation.
The album opens with Renaissance Mission, a vibrant, upbeat Hendrix-ish number that sets the tone of what one is to expect from The Universe... Predominantly an instrumental number, the song defines the Warren sound — the sharp, unobfuscated tone that one can recognise from afar. It's a powerful song, quite literally on a mission, and it pretty much accomplishes its purpose of being the album opener. With a remarkable guitar solo to boot and the inimitable
Karsh Kale on drums, the song finds its depth in the subtle support of Adi Mistry's bass playing.
Warren seems to have tipped his proverbial hat off to his inspirations through many of his songs in the album. If the Hendrix feel wasn't enough, there's a distinctive Mark Knopfler sound to the title track. It establishes a sense of being on a journey. Where the path leads, one doesn't know but who it meets along the way is far more exciting.
For instance, the lullaby-sounding opening to Little Rascal gives way to a more defined change of pace and Warren employs his much-loved whammy bar to elevate us onto a completely different frequency.
Nikhil D'Souza-fronted Come Anyway is definitive and not for one second does it let you sit on comfort for Warren swing right in with his slide guitar solo portion. Anandamide and E Major Blues are among my favourites in the album. They are two completely different songs in terms of vibe and tonality but they showcase Warren's sonic range like few others. There's a lot of improve in Anandamide but none of it falls under the needless showmanship that often engulfs feted guitarists. There's nothing in this song or for that matter in this album that needn't be there.

The album ends with Two Sides of the Same Coin, a song that starts with a hint of optimism but its guitar work leaves one with a pregnant sense of melancholy. It wouldn't be my pick to conclude to album though by itself, it is quite a beautiful song. Warren is not a guitarist who simply collaborates with various artistes to take on the vocal respo-nsibility. He's a musician with a vision and gift to see it through. He is probably the only one in the business today who has such a commanding presence and he pulls strings — literally and figuratively — to make sure that the outcome of the album matches his plan for it. It is not his best work; he raised the bar rather high with his album Nights in Shining Karma. But this album is a manual for budding musicians and guitar aficionados alike, for it tells you just how delicate the balance is between restraint and confidence, and how guitarists like Warren, while pushing the limits of the genre and their instrument, respect the space within. A wonderful album and definitely one worth purchasing online.
Go ahead, support the movement. Warren and his band of merrymen are here to stay and we're grateful for that.
After all, In Warren We Trust.
Donate Now
Comments
*Comments will be moderated